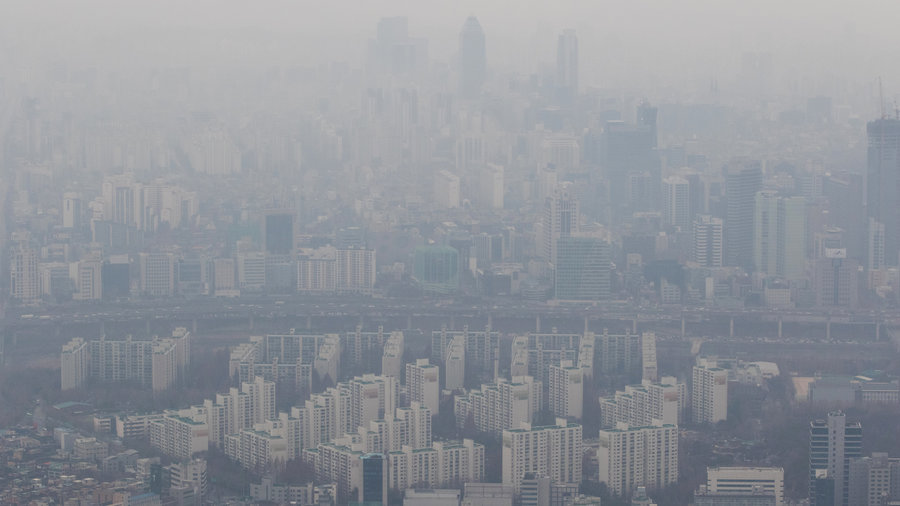 "The health effects of air pollution imperil human lives. This fact is well documented." –Eddie Bernice Johnson
On a sunny, spring day in Seoul, streams of masked passersby flood busy streets. The few unmasked individuals scurry along in brisk pace, faces covered with their hands as they seek indoor shelter, while others stroll by in apparent apathy arising from old habits. The familiar stature of the Lotte Tower reaching upward through the air is nothing but a faint silhouette of stubble, the bright afternoon unwelcoming to a single trace of blue in the sky. Runners stay home, schools cancel outdoor activities, and parents protectively urge their children along. The motionless atmosphere of warm, stifling air is heavily tainted with a distinct metallic thickness that triggers the beeping of emergency alerts in phones—it is yet another day of high micro particle dust levels.
"On days with extremely low air quality, I can't see outside the window at home," said Christine Lee (10), a proponent of reducing air pollution. "And when I am outside, I get allergic reactions like red eyes, a sore throat, and a runny nose. These days, I find that air purifiers are essential for indoors, while a mask is mandatory for everyday carry—in fact, I never leave the house without knowing that I have one in my bag."
Last year, a record number of 85 ultrafine dust warnings was issued in South Korea, placing the nation among the top ranks of the world's most polluted countries. With much of the pollutants attributed to vehicle emissions, construction sites, and power plants, the World Health Organization (WHO) classified the invisible nanoparticles as a first-degree carcinogen. The rising levels consequently spurred authorities to take emergency measures, including operations of "air-cleaning trucks" during the day, issuing advisories, and reducing operation hours of public facilities. The Ministry of Environment also requested regional and metropolitan governments to enact procedures according to guidelines set for the purpose of preventing fine dust levels from rising further.
"High micro particle dust levels considerably affected us a lot throughout the soccer season," said Diane Lee (12), varsity girls soccer player. "We could definitely feel the days that had bad air because our throats would start to dry out during practice, and the sky would be a muddy gray. A game even got canceled when the dust concentration went over 400 on one day, making it a lost opportunity that was greatly disappointing for the whole team."
However, while such regulatory measures offer preventative solutions to the growing problem of air pollution, they fail to address its more imminent dangers—the biggest of which is the lack of awareness on the issue itself. In partial truth, while the news, emergency alerts, and the internet all offer a somewhat efficient method to view the air quality, the inconsistency of the coverage, along with even the smallest steps required for the access of information on such platforms, hold back civilians from checking dust levels daily. As with such, various new forms of technological applications providing more efficient alternatives have begun to gain popularity with increasing hazards of fine dust. Mise Mise, a compact dust level monitor app, is one platform among many others, offering users with accurate readings of the air quality based on locational reports and hourly status updates. Combining reliable functions with compatible user friendliness, such recent trends in multiple technological implementations provide simple, yet equally effective methods to facilitate our daily lives.
"I make sure to check the micro particle dust level everyday," said Ashley Kim (10), a daily user of the Mise Mise app. "When I open the app, a red devil face indicating terrible air quality instantly lets me know that I shouldn't be outside, while a green smiley face reassures me that I'll be able to breathe in fresh air. Through such simple, convenient methods, I think that technology really influences our understanding along with our interactions with the environment."