NBA reopens facilities in locations with relaxed lockdowns
On March 11, when a player tested positive for the coronavirus, the NBA decided to suspend its season to a further date. But as states began to lift restrictions regarding social distancing, the association has followed suit by reopening most of their facilities. Cleveland and Portland were the first teams to reopen practice facilities on May 8, and the NBA expects 22 of its 30 facilities to be open by May 18. An official statement from the league office informed teams that facilities could open if their market allowed it, but only four players are allowed to practice at once. Scrimmages and interactions between the players are also prohibited, and the bottom line is that these training sessions are inevitably foreign. Despite the fact that these practices are voluntary at the moment, this is the NBA's first step towards normalcy after the coronavirus brought a deadly stop to athletic activity all over the world.

"Personally, I am disappointed by the fact that a lot of the major sports organizations had to shut down," said Philip Hahm (9), JV boys basketball player. "This year, I felt like the playoff matchups were highly anticipated because a lot of teams changed significantly in terms of their roster such as the Lakers, Clippers, Nets, Celtics, etc. But at the same time, it's very understandable considering the current circumstances with the coronavirus in the US. I do want the NBA to reopen as fast as possible, but with the situation right now I think it is a safer decision to not reopen all of the facilities, although the facilities are most likely going to be very secure."

The primary reason behind the decision to reopen facilities is due to the relaxation of stay-at-home orders. Some team executives pointed out that as states such as Georgia reopen their services, players might travel to unsafe gyms in those locations. Opening practice facilities would dissuade these players from travelling away from their home cities, and give them access to professional equipment. However, some athletes are unconvinced that the benefits of facilities outweigh the trouble of safety protocols. Players with different means of practice do not see the point in returning to team programs when other fitness centers do not enforce such strict security measures. Some general managers predict veterans will not participate in these workouts until a return to play is guaranteed.

"I think it's good that the players have a place to go," said Tim Munro, varsity basketball coach. "If they don't go, I don't know if it's that important but maybe some players don't have access to basketball hoops. It is easier for professional players to stay in shape, since most of those guys have workout facilities at their house. Even if it's a small room with some equipment, they've got something that my high school team doesn't have. For my players, I wouldn't necessarily suggest going to facilities, but hopefully they can find a place to practice while maintaining social distance."

Many fans are wondering how the season will come to a close amidst the pandemic. Some have suggested ending the season prematurely and focusing on the next season. However, Adam Silver, the commissioner of the NBA, has repeatedly told teams about his determination to play out the rest of the season. The most popular idea consists of playing out the season in a single location without an audience. Las Vegas and Orlando are the current favorites for hosting the remaining games. The league also seeks to address its long term problems by pushing back the next season to the winter, which would allow more rest for the players between seasons and increase the possibility of playing in front of fans. Though the coronavirus has brought a series of complications for the NBA, efforts to bring basketball back remain as strong as ever.

"I would definitely enjoy a season of basketball in Vegas/Orlando," said Bryan Kim (9), JV boys basketball player. "If the season continues to get delayed, then the 2020-'21 season would have to be shorter, something that no one wants. Even though there are some teams that play off their fans' energy, I think we should do whatever is necessary for the NBA in order to to continue and finish the season."

About the Contributor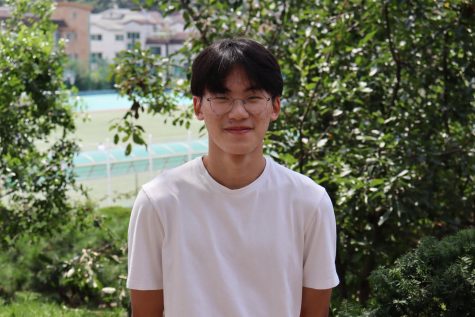 Woojune Kim, Co-Editor-in-Chief
Woojune is a senior Co-Editor-in-Chief of Tiger Times. He loves to read solutions to difficult math problems (not solve them, though), eat Annie's Bunny...