School events get modified for the safety of students and faculty members
The COVID-19 outbreak has resulted in many changes for the SIS community. Due to the government's announcement to practice social distancing, classes have shifted online , and events like Snowball and Prom have been canceled. Due to all of the cancellations, one of the most frequently asked questions was about whether graduation is going to be taking place or not. There were various assumptions made by the students. Some said that it was probably going to get canceled, while others said it was going to change to a virtual graduation, and some said it was going to be taking place like how it was normally done.

"I didn't know what to expect," said Kyuhee Han (12). "Since the status of the coronavirus outbreak changed frequently, it would have been hard for the school to come to a final, official decision. I continuously heard rumors about what was going to happen with graduation, but I had to wait for the school's official announcement to make sure I had the correct information."

Thankfully, graduation is taking place this year, but modifications have been made to the event. The only people allowed on campus are going to be graduating students, faculty members, and two family members of each graduating student. No underclassmen are going to be allowed on campus during graduation this year due to social distancing. Many seniors were expecting the worst-case scenario, cancellation of graduation or virtual graduation, but live graduation is taking place, which is a relief.
"I feel the modified graduation is a necessity," said Micheal Ganus, a band director. "We have been away from our school for so long now. I think it is entirely possible for the school to host a graduation ceremony that is not only safe but also high quality. Our seniors deserve to walk across that stage and to see each other in person one last time. Who knows what the future of education holds, but I feel graduation is a rite of passage and one that our students earned. SIS is trying its very best to make the event safe for everyone and memorable for all seniors, which I really appreciate."

On May 1, NHS conducted a virtual Senior Sendoff since a live event could not take place due to Coronavirus. During the event, the junior members of the NHS club made a video that showcased the seniors' growth from the time they entered SIS through their yearbook mugshot photos. They also made two Kahoots, where seniors guessed who the baby picture belonged to and matched iconic teacher quotes to the teacher. There was a quick message from Mr. Macklin and Dr. Gerhard to wrap up the final high school year for the seniors as well, and the event came to an end. The seniors enjoyed this event a lot, especially during the video, as they were busy posting their friends' baby pictures on their social media. The mass virtual meeting was also a unique experience for the seniors and faculty members, which made it extra special.

"It was a very heartwarming gesture from Mr. Macklin and the NHS members," said Joshua Hahn (12), a member of the HSSC. "Many events dedicated to the seniors had to be modified or canceled, but conducting this online meeting helped the seniors to end the year in a wholesome note. A lot of the seniors also had fun taking part in the Zoom meeting, and we really appreciate the NHS for making the end of our senior year memorable."

About the Contributor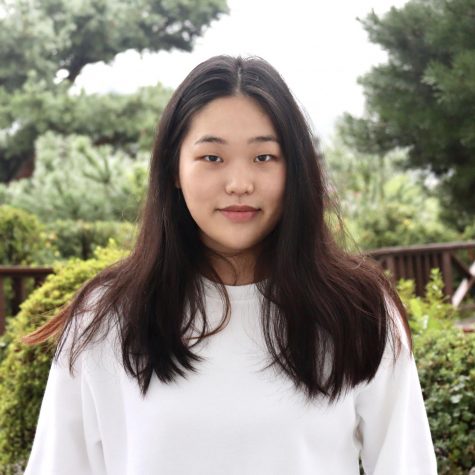 Katherine Suk, Video Production Director
Katherine is a senior copy editor and video production director for Tiger Times. She loves to draw, daydream, and listen to music. She also enjoys public...