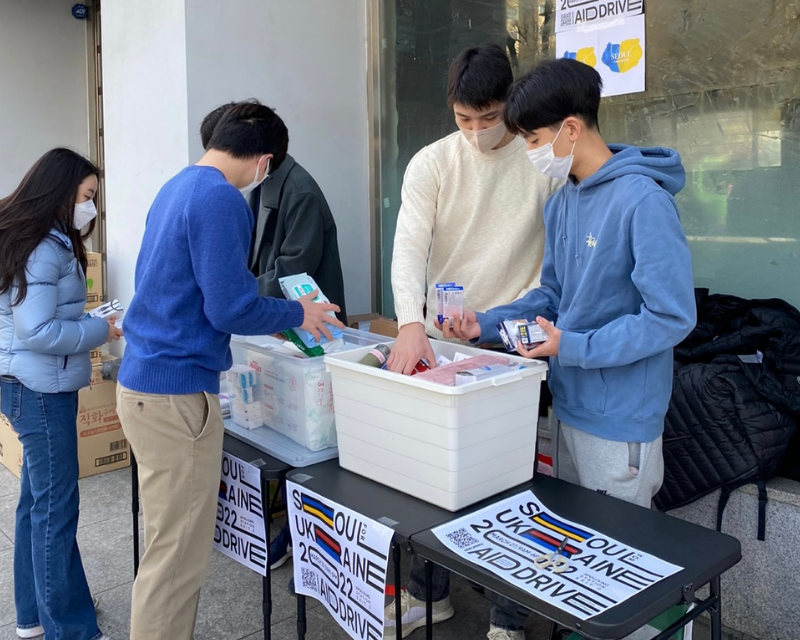 Following Russia's first attack on Ukraine on Feb. 24, Ukrainian residents have been living under inhumane conditions—stripped of their homes, education, and food. The country is in desperate need of humanitarian aid, and the SIS community is one of many helping hands in both spreading awareness and taking direct action on the crisis. 
Human Rights Education (HRE) is a student-led organization at SIS that spreads awareness upon timely global events in relation to human rights. With the Ukraine crisis, the organization's present aim is to inform students about the conflict and ways in which students can become involved. 
"I think that Russia's current actions are unethical, immoral, and unjustifiable," Triston Lee (11), HRE member, said. "Many overlook the importance of human rights education for the youth, so through HRE, I want people to learn more about this issue and take real, practical actions."
HRE will soon hold their first TED-Talk style presentation with the middle schoolers, which was initially postponed due to unforeseen COVID-19 adjustments. Later, this presentation will also be viewable to all high schoolers through social media platforms and, possibly, be displayed on the school televisions to spread awareness upon the Ukraine crisis amongst larger audiences. 
"I think the TED-Talk will benefit especially students who are not keeping up with current news to gain more insight on the harms of the crisis on Ukrainians' human rights and how to take direct action against the crisis," Tobias Choy (10), HRE member, said. 
Seoul for Ukraine is a charity organization held by KIS and SIS students who administered a humanitarian aid drive with members of the Romanian Parliament and the National Post Office of Romania to collect contributions to support Ukrainian refugees at the Ukraine-Romania border. 
Their humanitarian aid drive was held on March 27 and was open to both monetary and physical donations such as medical and hygiene supplies, baby products, technological goods, and clothing. By the end of the drive, they received the most medical and hygiene products, followed by baby products and clothing.
"I decided to be involved in Seoul for Ukraine because I saw it as a great opportunity for me to personally help the Ukrainians," Lauren Kim (11), Seoul for Ukraine member, said. "I had been looking for trustworthy organizations to send donations to help the Ukraine crisis, and so when I heard about this student-led humanitarian aid event, where I can be directly involved in both the collecting and shipping of goods for Ukraine, I immediately signed up. I definitely feel accomplished that I was able to help even in the tiniest bit."
Currently, the organization is still labeling and packaging the supplies collected from the drive, which will soon be sent to Bucharest, Romania, where they will be redirected to the Ukraine–Romania border. 
"I think all of these efforts put forth by the SIS community against the Ukraine crisis are really commendable," Jim Gerhard, SIS high school principal, said. "We have actually talked with other international schools that are currently taking in students that are leaving their homes in Russia and Ukraine due to this crisis. There is firm compatibility with our students here at SIS trying the best that we can to bring awareness in finding peaceful diplomatic solutions—which I believe is always the best move forward."