New Teacher Feature Q&A: Mr. Halter
This year, the SIS community welcomes 15 new high school teachers, including Mr. Halter, who teaches AP English Literature and Composition and English 11. In this New Teacher Feature Q&A, Mr. Halter shares some of his fascinating personal experiences and interests with TTONL. Welcome to, SIS Mr. Halter!
Where are you from? 
"Milwaukee, Wisconsin. Bucks in Six!"
What was your last school?
"I actually taught at two schools last year, one online and one offline. I taught AP English Language at NCPA China online from about 7 PM to 3 AM, and then I would get a little sleep before teaching English 9 during the afternoons at Fond du Lac High School in Wisconsin. It really was a busy year."
What are some of your hobbies and interests?
"Traveling is definitely my favorite hobby followed by soccer, golf, and of course, reading. Stories are magic. I love consuming them whether in a book, audio, or film format."
What is your favorite book?
"That's a tough one for an English teacher! I am a big fan of the Harry Potter series and have read them so many times it is unreal. Last year I read a book titled Shantaram, which I couldn't put down. Another book that sticks out is one I read in fifth grade called Banner in The Sky, which inspired me to travel and conquer my fear of heights."
What are some interesting facts about you that many people don't know?
"Well, I was chased by a grizzly bear once, and I'd prefer that never happen again. I've also accidentally bumped into a mountain lion, which wasn't ideal for either party."
What was your first impression of SIS?
"Wow. When I first arrived, it was a real culture shock. I am used to things being very spread apart back at home, but here at SIS, which is just a four-minute walk away from my apartment, there are plenty of good food options and things to do near the school. I can even see Lotte Tower from my classroom window! What a deal! When you live here, you may take it for granted, but if you were to visit my previous schools, this would look quite impressive."
What aspects of the school attracted you to start teaching here?
"I had a really great interview, and I could feel that SIS would be a good fit for me. It was not so much the location originally but the people that attracted me to teach here. I've really lucked out in both regards though."
What are you excited about for the school year?
"I really look forward to the class after the AP Lit exam when all of my students and I can breathe a sigh of relief. It'll be a nice feeling to see all of the hard work we've put in end in a solid, well-earned result."
Leave a Comment
About the Contributor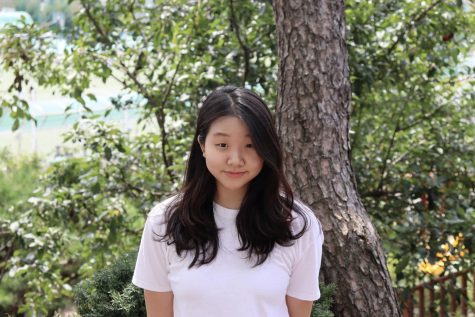 Minjae Chun, Design & Production Editor
Minjae Chun is a senior design and production editor of Tiger Times. She is passionate about art, literature, and journalism. She enjoys having movie nights...