Participation of citizens integral in ensuring celebrities' accountability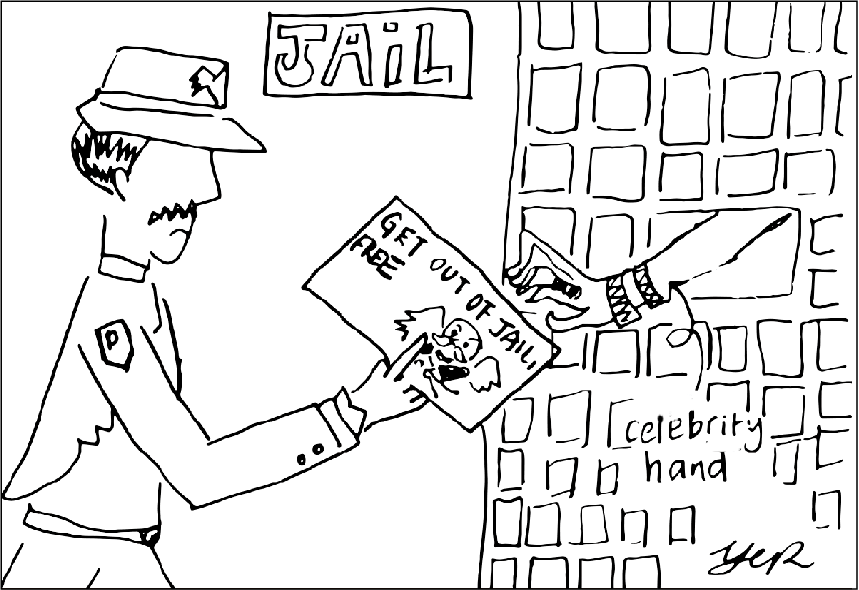 Many Koreans sing along and wave light sticks when attending their favorite singers' concerts. Many laugh and cry over celebrities in dramas. Due to Korean fans' serious attachment to celebrities, these singers and actors are always under the radar. Consequently, their acts of misconduct, such as drunk driving and gambling, are covered extensively by the media. Once news reports about their illicit activities are published, celebrities repeat the arduous cycle of apologies, self-reflecting periods and eventual comebacks to the industry. Considering the fact that celebrities have a great influence on civilians, these stars should be held accountable for their actions.
When they make successful comebacks, guilty celebrities create a double standard in society. Even though celebrities must cope with the brutal criticism they receive online, the Korean court system and public should not respond with lenient treatment. In 2010, Park Bom of girl group 2NE1 was convicted of smuggling 82 pills of amphetamine, but did not receive any punishment. However, when a 36-year-old businessman smuggled 29 pills of amphetamine, he was imprisoned. When celebrities are treated forgivingly, the public is also more prone to justify their misconduct. Since the public looks to celebrities for fashion and beauty advice, it is  not surprising that they also mirror famous people's illicit actions. Celebrities must be positive role models, not sources of harm.
While celebrities are ultimately responsible for their failure to behave properly, the public is also responsible for sympathizing with and forgiving these figures. Five years after being accused of intentionally pulling out his teeth and taking false civil service examinations to avoid his military duties, singer MC Mong recently released a new album "Miss Me or Diss Me." Despite the public's initial criticism of the singer's past unpatriotic actions, the album gained popularity immediately and placed first on the daily charts of nine Korean music websites. Also, the album's title track, "Miss Me or Diss Me" won first place trophies in weekly music programs "Show! Music Core" and "Inkigayo." However, to truly ensure that celebrities face appropriate punishments for their wrongdoings, the public must firmly express its unwillingness to reaccept these celebrities. Celebrities accused of crimes will continue to repeat the cycle of making mistakes, apologizing and pretending as if nothing is wrong, as long as the public supports them.
Efforts of both celebrities and the public are imperative. Celebrities and the public need to work together to properly hold celebrities accountable for their actions. Instead of becoming bad examples, celebrities should take advantage of their positions in society to spread positive messages and encourage favorable behavior. Likewise, it is important that individuals demonstrate resistance to celebrities with criminal records.