Smart-watch breathes new life into wearable technology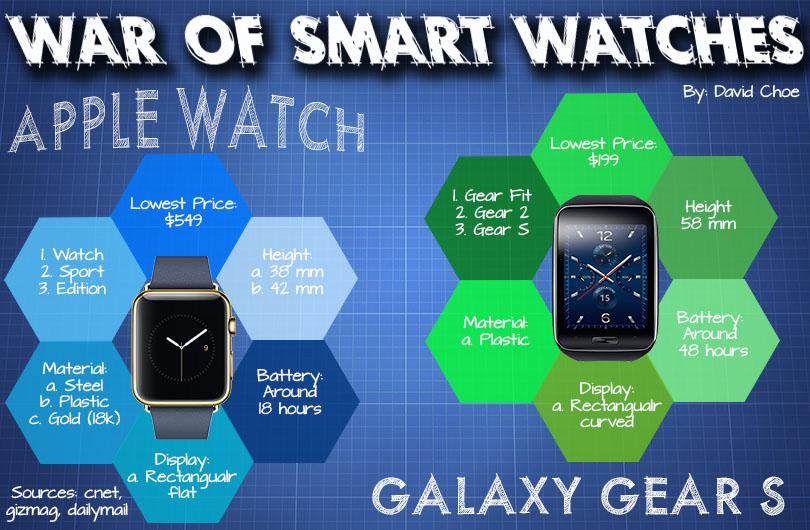 Wearable technology has been developing exponentially over the past few months with the recent release of Apple's iWatch, LG's G Watch, and Samsung's Galaxy Gear S. After being revealed on March 9, the iWatch has particularly been the focus of the hype, bringing in a variety of new functions to the realm of smart watches, such as the image-communication feature as well as extensive customization options, including an 18-karat gold version. As a result, according to Strategy Analytics, total worldwide smart-watch shipments are expected to increase from 4.6 million in 2014 to 28.1 million this year.
"Smart watches became the center of attention when big IT companies such as Apple, LG, and Samsung jumped upon it," said John Kim (11), AP Computer Science student. "With the integration of software and hardware into a seemingly small but extremely powerful mini-computer, I definitely see the beginning of a pioneering advance in technology."
Despite the continuous release of these devices, smart-watches have previously failed to take off in the market. According to The Guardian, the Samsung Galaxy Gear Watch only sold 50,000 units, and has since been credited as a major failure by the company itself. Its failures can be traced down to exorbitant prices of $300 as well as a lack of special features. The fact that the watch wasn't as powerful as the consumers expected it to be resulted in a 30% return rate.
"The Galaxy Gear Watch at first was presented as a gadget that would revolutionize the world of smart technology," said Matthew Kang (11), Samsung Galaxy Gear Watch user. "However, after experimenting with the watch a few times, I was quite disappointed to find that it was none more than a glorified form of a mini smart phone. In order for the new Samsung Galaxy Gear to succeed, I believe that it is most important that they have a clear differentiating factor between their watch, and their phones."
Excluding the global major IT corporations, however, there is also a variety of small business startups that are diving into the field of wearable technology, such as Pebble. These companies provide a more affordable yet quite powerful smart watch than its larger competitors. According to the Sydney Morning Herald, traditional watch companies, such as Swatch, have also planned to introduce their own smart-watches in response to the entry of technology firms.