China boycotts Korean products in response to THAAD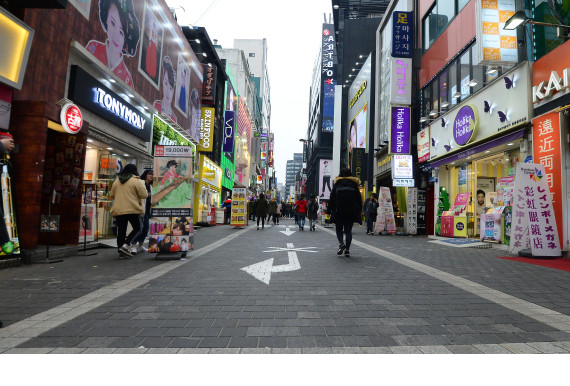 China's firm opposition to South Korea's projected implementation of missile defense has become increasingly clear over multiple diplomatic talks, as well as through solid statistics: Chinese visitors and tourists in the Korean tour industry dropped by 70 percent and South Korean businesses lost an estimated $5.1 billion in revenue. The heated political debate over the deployment of Terminal High Altitude Area Defense (THAAD) has taken a sharp turn to a direction unprepared for: the economy.
China has always been a fervent fan of South Korean cosmetics, forming a large percentage of consumerism dedicated to brands like Lotte and Shinsaege. They were also heavily responsible for much of the revenue from recent tourism booms at popular Korean tour destinations and shopping districts such as Myeongdong and Garosu-Gil.
However, everything changed on March 2 as all travel groups and package tours to South Korea were officially banned in Beijing along with boycotting a number of Korean products. This left a prominent scar of devastated numbers, especially directed toward Lotte Group because the deployment of THAAD would take place on land under the ownership of Lotte, as promised by the land swap deal on last February. As a result, 79 of 99 Lotte supermarkets in China were forced to close down.
"Historically, China always vested much interest in the Korean peninsula," said Michael Silber, AP World History teacher. "And because China now plays such an important role as an economic partner, it seems like South Korea needs China more than it needs Korea. Although China's tactics are heavy-handed, their current policy is effective. But this could lead to an escalation of a potential showdown with the North. South Korea is currently in a difficult spot where it needs to balance the different factions for and against THAAD, which causes more division both domestically and internationally."
As the consequences of THAAD extend to economic harm, the risk factors of its deployment continue to expand. Although THAAD is planned to prepare for possible dangers from the North, problematic foreign interventions continue to emerge and grow stronger to a point where they can no longer be disregarded when weighing THAAD's benefits and losses. Although Lotte is the main victim of the Chinese ban as of now, there's a high chance that the ban will also affect and act on other major Korean exports.
Although the number of Chinese customers has significantly reduced, there were also unexpected positive changes that arose as a secondary effect. As streets cleared up of the Chinese masses and provided more spacial leisure, the public's perspectives on China's boycott also recognize some unexpected positive effects of a great change in Korea's market system. Major shopping streets, like Garosugil, for example, started to have Japanese and Koreans creating a new street culture and shift in trending styles, gradually filling in the shoes of Chinese tourists who once crowded those same streets. Therefore, it is not only the change of the number of tourists that leaves a mark but the nationality and identity of tourists that affect the products as well. Such shopping streets filled with Chinese tourists had previously made it difficult for other shoppers to have an open space and have more freedom of movement. The absence of Chinese tourists, though detrimental by numbers, can be interpreted as a chance to be independence from overpowering external consumption. In the most positive prospective attitude, the fall of the Korean market, in a short period of time, can be translated to a stable internal economy instead.