Guest speaker highlights liberal arts education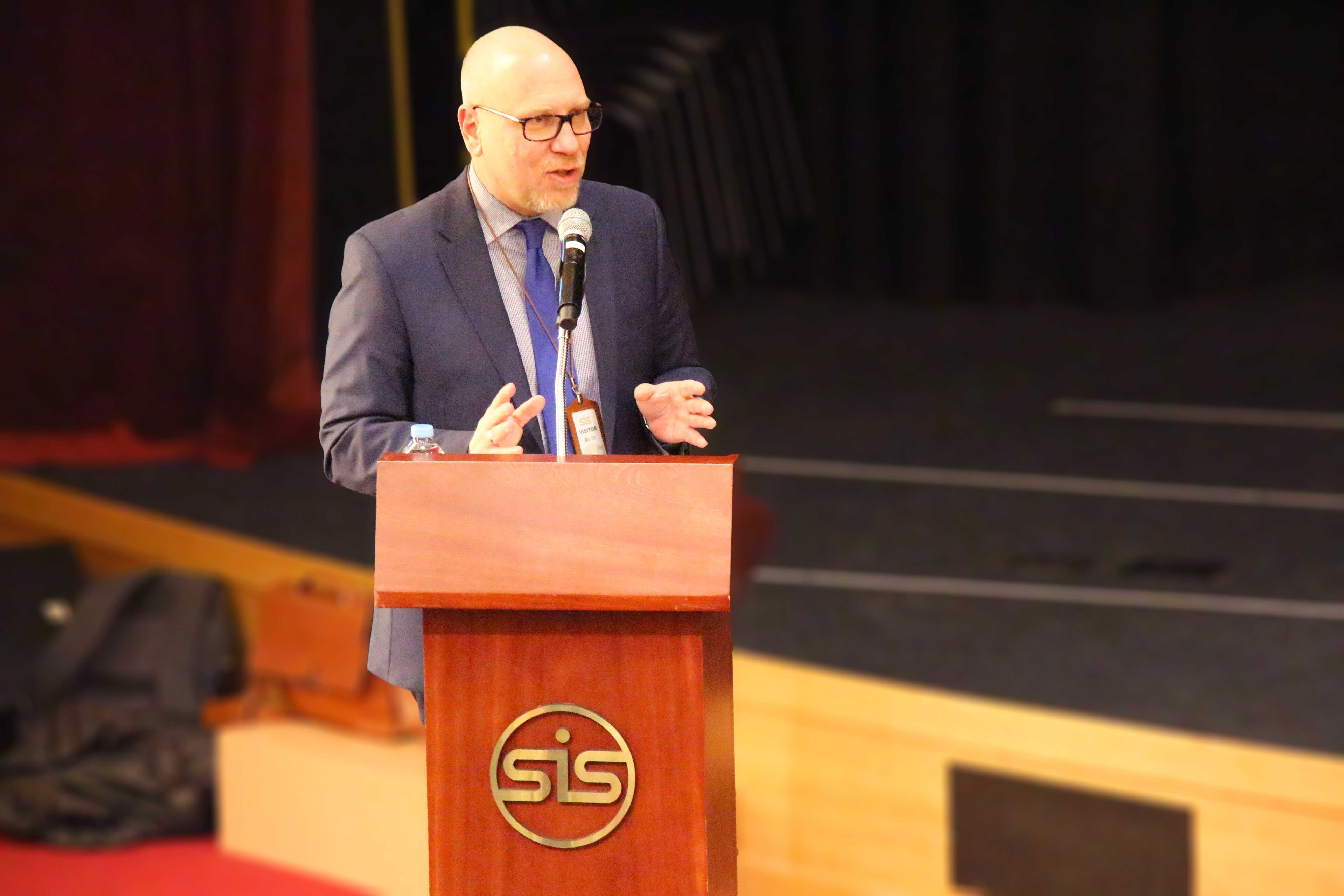 On Nov. 20, SIS was visited by Panayiotis Kanelos, president of the Maryland campus of St. John's College. As a guest speaker who presented to the junior class and members of the leadership team, he described in detail several aspects of St. John's College, including its distinct style of education and student life. As explained during his presentation, the school embraces a liberal arts education, which revolves around the development of a broad foundation of knowledge, as opposed to specialized concepts and skills. Among the various messages conveyed, one recurring theme was the importance and rising prominence of this form of education.
"I am a big believer in the liberal arts," said Gray Macklin, high school Vice Principal. "I do not think education is job training. To a certain extent, this style of teaching was the motivation behind the creation of the skills-based assessments—not training people to perform certain tasks but equipping students with a skill set that empowers them to do anything in the future. One of the most memorable quotes I have read was by Neil Postman, who once said, 'Public schools do not serve the public, but they create one.' This [concept] was what I thought was lasting about the message of his presentation."
Although numerous universities around the world similarly value the liberal arts, Kanelos distinguished St. John's College from these schools by highlighting its unique, notable characteristics. For instance, students attending this school do not refer to their teachers as "professors" but instead as "tutors," and these instructors do not permit the use of technology, such as projectors and laptops, in classrooms. Unlike SIS, all classes are conducted through a series of seminars, and grades are not made visible to the students at all times; only when a student fills out several handwritten forms requesting for one's GPA can this cumulative score be viewed.
"Although I was not expecting that much from the presentation, I was intrigued by the unique teaching style it embraces," said Eugene Jang (11), a junior passionate about the liberal arts. "The fact that they do not allow students to view their GPAs was surprising to me, but I think that was what made this college appealing; the motivation to work harder comes from within, not from numbers. I am not sure if I will apply next year, but I am sure I would prefer St. John's College over the hyper-competitive atmosphere of any South Korean school."
The mission of St. John's College is in stark contrast with that of South Korea's public education system. In September 2018, the Ministry of Education announced that universities are going to be required to accept 30 percent of applicants based on College Scholastic Ability Test (CSAT) scores—almost an 8 percent increase from this year, according to the Korean Council for University Education. Additionally, the alleged increase of difficulty in the CSAT's questions, as discussed on Internet forums, again demonstrates South Korea's increased emphasis on standardized testing.
"One of my dreams is to attend university in the US," said Wonjae Lee, a sophomore attending Korean Minjok Leadership Academy. "Although it is comfortable living in South Korea because I am very familiar with the culture here, the competition for high grades especially at my school drives people insane, and I seldom get more than five hours of sleep each night. Attending St. John's College sounds like it would be a fresh experience."