"Katok" users switch en masse to Telegram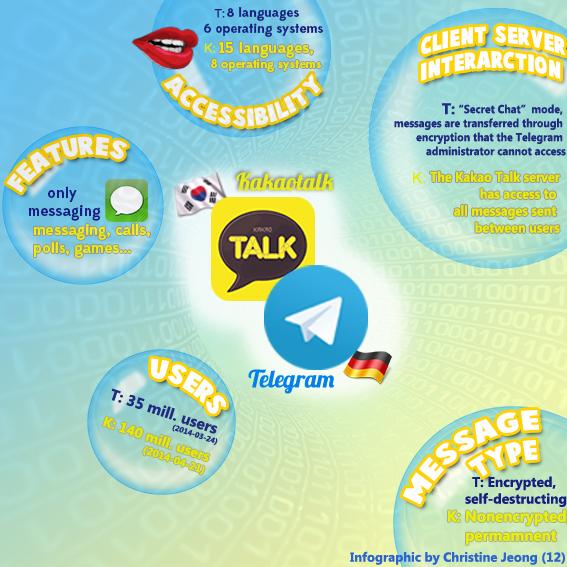 Ever since the Sewol ferry incident occurred in April, President Park Geun-hae has been subject to heavy criticism and rumors for her poor handling of the situation. In response, the president decided to take active measures by pledging to crack down on the citizens responsible for circulating the rumors and insults against her. Kakao Talk, a smartphone messaging application used by 35 million of the country's 50 million people, is one of her primary targets.
Users of Kakao Talk responded immediately to this announcement of government crackdown by leaving the application en masse for an increasingly popular German message application called Telegram. Since Oct. 1, Kakao Talk has lost 400,000 South Korean users, with Telegram gaining 610,000 South Korean users as a result.
"I downloaded Telegram out of curiosity after people around me suddenly starting leaving Kakao Talk for Telegram," William Lee (9) said. "Honestly, Telegram is not so much different from Kakao Talk. Kakao Talk has more emoticons, and Telegram apparently has better security—but ultimately, the two [applications] are very much the same."
One of the main reasons South Korean users turn to Telegram is for its high level of security. Earlier this year, the two founders of Telegram, Nikolai and Pavel Durov, offered $200,000 to anyone who could hack into the system, a challenge that nobody was able to complete. According to Wall Street Journal, this high level of security can be attributed to its well-encrypted message platform.
"It is not that Telegram has a superior, out-of-the-world security system," said Jae-yong Song, professor of business administration at Seoul National University. "It is just that Kakao Talk has a mediocre one. With the necessary changes, Kakao Talk can easily catch up to Telegram in terms of security."
In order to meet up to the complaints regarding security, Daum Kakao announced this week that it would store chat-history data no longer than three days instead of the previous seven. The company also said that it would fully encrypt its messaging platform and introduce a privacy mode that deletes messages after they've been read.
"If Kakao Talk makes all the changes that it has promised to make, I think Kakao Talk will be able to gain back the users it lost," Andrew Ahn (10) said. "After all, we [South Koreans] are all more familiar with Kakao Talk."