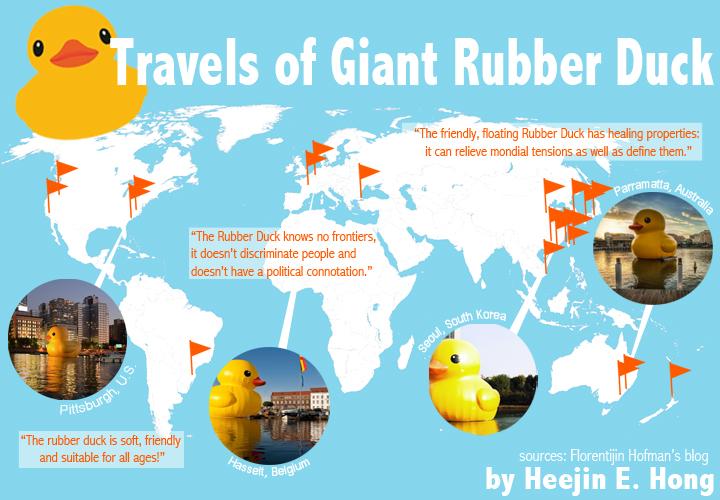 To celebrate the opening of its Lotte World Mall, the Lotte Group asked Dutch artist Florentijn Hofman to install a giant rubber duck sculpture at Seokchon Lake near Jamsil station, from Oct. 14 to Nov. 14. This marks the first time that his piece was displayed in Korea, following successful exhibitions in other cities, such as Sydney, Australia and Sao Paulo, Brazil. Weighing a total of seven tons including the concrete anchors and platoons that support it, the artwork has grabbed the attention of passersby and Jamsil residents due to its gigantic size as well as its familiarity as a bath time toy. As of Oct. 21, around 721,000 people have visited the site and 5,000 smaller, limited edition versions for sale at pop-up stores have mostly sold out.
"The fact that the high-tone and bright yellow color of the sculpture stands out among the grey city contributes to its public appeal," said Jin Shin Ekin, art teacher. "Also, the way that the piece is displayed fits the author's purpose of spreading joy around the world. It is easily accessible to people because it was floated on a lake instead of being displayed in a museum or a building."
Several SIS students, including Brian Lee (12), were among the many who visited the lake in order to see the yellow rubber duck. According to Brian, he decided to go because he was aware that it would only be available for a limited amount of time, with the duck only being on display for a month.
"Because I enjoy taking photos, I wanted to take one of the duck," Brian said. "I thought it was interesting and entertaining to see a big rubber duck sitting on the lake. It was an opportunity to capture a moment that you cannot see everyday, which a photographer should strive to do."
Despite its popularity, the exhibition also encountered logistical problems, with the giant duck deflating twice on Oct. 14 and Oct. 20 due to a malfunction of the air-circulation system, according to the Korea Times. This mishap sparked a slew of memes and sarcastic jokes online of its deflated state, with one user using the caption, "I'm diving underwater."
"I was not surprised that people did not criticize the organizers for the mistake," Kristen Park (12) said. "I think that members of the public are expressing their enjoyment and appreciation of the artwork by poking fun at the mistakes of the organizers, rather than criticizing them for it."
---
Photo source: TV Daily