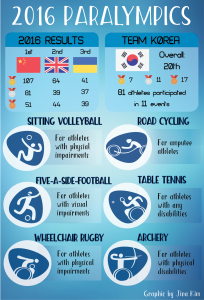 Marking a significant improvement from the 2012 London Paralympics, a series of international contests for athletes with disabilities along summer and winter Olympics, the South Korean Paralympics team this year gained national attention by bringing back 35 medals. A total of 139 Korean athletes participated in 11 sports categories at the Rio Paralympics, which ran from Sept. 7 to Sept. 18. Winning gold medals in swimming, judo, table tennis, and boccia, the national team was met with cheers and applause at the Incheon International Airport as they arrived. Though the national team did not meet its initial goal of winning 10 gold medals and placing 12th overall, most athletes celebrated the event itself rather than its results.
"Most people are too occupied with Olympics that they often forget about Paralympics," said Collin Ham (11), a student interested in both games. "It is understandable that competitions with world-breaking records and rigorous tackling would attract more eyes but I think fostering more attention to Paralympics would strengthen national patriotism as well."
One of the biggest stars of this Paralympics was Gi-seong Cho, who earned his first three consecutive medals in 50 meter, 100 meter, and 200-meter freestyle swimming races at the competition. After suffering brain lesions, Cho first encountered swimming in 2008 and continued to pursue it in an attempt to make his paralyzed legs more flexible. Though Cho wasn't able to fully recover and walk on his two feet as his mother had hoped, he was able to represent the disabled swimmers of Korea, earning him three gold medals along with his numerous titles.
Another gold medal went to Gwang-guen Choi on day four of the Paralympics. He won his second consecutive gold medal in the men's 100-kilogram judo class. His one minute and 21 seconds of fight spelt victory over Antonio Tenorio, the four-time Paralympic champion from Brazil, immediately grasping the attention of many.
In addition, the backstory of Gyu-dae Kim and his decision to participate in the 2016 Paralympic Games stirred significant attention in the Korean public. Once a fit young man in the Underwater Demolition Team of Korea, Kim lost control over his lower body after enduring a crash landing. Through the 2016 Paralympics, however, Kim was able to revive himself as a track racer. Winning a bronze medal in T54 800-meter final, a race specially designed to incorporate jumping events for disabled, Kim earned praise from citizens back home. T54 is a disability sport classification for track and jump athletes who span from having spinal cord injuries to those racing in wheelchairs. This classification requires athletes to have normal hand and arm function, but does not require any leg function.
"It is definitely amazing to watch how these athletes with physical disabilities can achieve this much," said Judy Moon (11), another student who watched Paralympics. "Most people are aware that learning specific sets of skills and pursuing athletic stamina is an enduring process, in which it makes everything harder for those with physical handicaps. I think Paralympics is an inspiring competition that represents the other side of disabled people, stray from how most people perceive them as."
The Paralympics serve as a reminder that even when faced with challenges, there are people who will stand up to meet them. In alignment with the true spirit of international sporting events, the athletes showed the world that celebrating the event itself is often more important than earning rewards and winning medals.