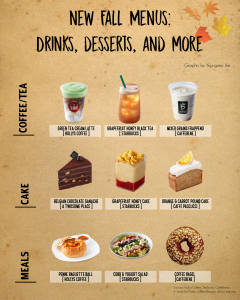 A myriad of coffee shops along the sidewalk are busy changing their menu platforms. Workers scurry in and out, briskly sprinkling maple leaves all over and tinting their stores from cool shades of blue to gentle flames of orange and yellow. Bottles of bright blue slushies and ice-cold lemonade transform into tepid cups of sweet milk and pumpkin spice lattes. All of this points to one undeniable conclusion: fall has arrived!
Seasonal changes often mark the busiest periods of time for cafes in Korea. All these coffee shops—Starbucks, Caffé Bene, Hollys Coffee—embark on a journey to establish a new set of menus. Each season, they design new drinks and desserts to compete with each other under the positive notion of "new launchings" and "healthy marketing," advertising techniques intended to cast their changes in a positive light. With autumn right around the corner, diverse chains of coffee shops have already launched their new, delicate marketing of beverages and snacks.
As its main fall drinks, Starbucks introduced its Grapefruit Honey Black Tea along with the Shot Green Tea Latte. According to Korea Times, many people appreciate the Grapefruit Honey Black Tea with its blend of taste arising from the unique flavors of sour grapefruit and sweet honey. However, far more seem to find the Shot Green Tea Latte attractive, which layers green tea, milk, and espresso into three levels. Carrying on its fall theme presented by these two main drinks, Starbucks also presented its Shot Green Teacake that layers chocolate cake, green tea, cream cheese, and mocha, along with the Grapefruit Honey Cake that includes grapefruit jelly, cream cheese, and lemon meringue.
Caffé Bene, another prominent coffee chain store in Korea, focused on filling its autumn menu with a variety of sweets. This Fall, Caffé Bene merged its main drinks and desserts into a single cup, offering the Caramel Dessert Latte and Chocolate Dessert Latte. While the Caramel Dessert Latte consists of a caramel latte with a New York cheesecake on top, the Chocolate Desert Latte mixes a dark chocolate latte with hand-made brownies on top instead. Besides its drinks, Caffé Bene attracted the public with rainbow-colored bagels, which deviates from other plain bagels, adding a range of colors symbolic of autumn.
According to the Chosun Ilbo, Hollys Coffe came up with the most eye-catching menus of the year. Although Hollys coffee did launch new drinks such as a Sweet Cream Latte, Green Tea Cream Latte, and Milk Tea Cream Latte, it mainly conveyed its underlying fall theme through substitution of dessert with convenient meals. Its Penne Baguette Bowl, Sweet Pumpkin Corn Soup, and Honey Baguette Bowl were not only demonstrations that cafes can be utilized as places to eat full meals, but it also depicted the theme of "Fall" best by utilizing the clichéd autumn food materials.
Coffee shops are always some of the most common places of refuge from the dismal and painstaking cycles of work in Korea. Whether it is a famous coffee chain store or a small private cafe, all cafes wear new clothes of flavors resonant with all four seasons—and at this point, customers are starting to see tinges of autumn red and orange.