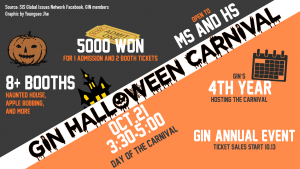 For the past four years, Global Issues Network (GIN) has hosted the Halloween Carnival to raise money to fund its efforts in combating global issues such as urban sustainability. This year's carnival was hosted on Oct. 21 in the Annex building and included a variety of activities ranging from a multi-themed haunted house to activity booths, along with a variety of foods and prizes.
"Although we had many goals such as wanting to increase school spirit and to make it more enjoyable for students, a different goal we had for this year was to conserve more paper while making the haunted house because we realized too much paper was wasted last year," said Youngwoo Kim (10), GIN External Communications Director. "The limited restriction on materials served as a really big obstacle during the making process, but in the end, we were able to overcome it, and instead used similar materials with the same functions."
In recent years, the haunted house acted as the centerpiece of the carnival. However, this year, there were multiple main stations and activities besides the haunted house, such as booths for horror movies, spooky themed photos, cookie decorating, and even obstacle courses. In addition, a chilling lounge was set up in the gym for students to rest and interact with friends. GIN members decided to keep the majority of last year's activities while expanding their event to include new activities such as Poker Night and a 3-point basketball shootout.
"This year, our club focused on integrating clubs to make the overall experience even richer, partnering with D$Q and Blue Note to provide entertainment while the Aperture club will take photos," said Joonyoung Lee (10), GIN Treasurer. "We hope that this will promote club interactions as well as create an even more effective and interactive Halloween carnival for this year."
According to Jaejun Ku (10), a GIN member who participated in making the haunted house, both high school and middle school students enjoyed the Halloween carnival this year, with spookier scare factors in the haunted house, tastier pumpkin-shaped Halloween treats, and even more creative and challenging booths.
"The carnival was a blast last year, and I hope it will be the same this year," Kyuhee Han (9) said. "As the haunted house left me in shivers last year, I am looking forward to an even scarier one this year and hope to make many memories with my friends, since the GIN Carnival has always been an unforgettable high school event."