Show KPOP takes the stage off-Broadway
On Sept. 22, KPOP, an immersive musical officially opened in the A.R.T or New York theatres. Performed by 18 members all of Asian descent, KPOP is a bilingual show that reveals the backstory of numerous Korean pop (K-pop) artists trying to shine within the competitive market, along with the underlying challenges of globalization greatly influenced by American pop culture.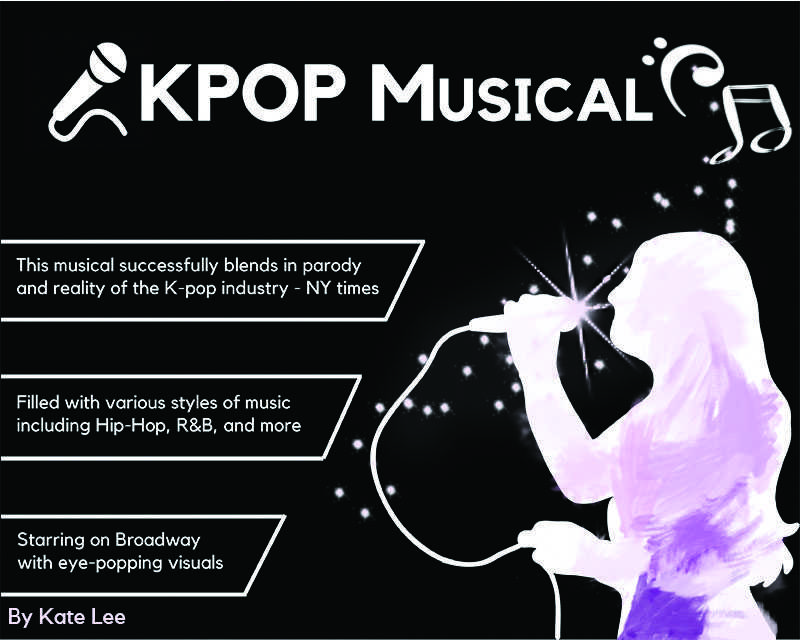 "Personally, I believe that KPOP is one of the most representative musicals there are for the 21st century," said Heewon Kim (12), a K-pop fan. "Moreover, the musical itself defines America's unique trait as a country that is dubbed as the melting pot, or a country characterized mainly by its interracial culture and people."
KPOP starts with Mr. Moon and his wife, Ruby, the owner of a start-up entertainment company called JTM Entertainment. The couple train and organize one boy band called F8, a girl band called Special K, and a solo artist, MwE. In order to prepare all these potential K-pop stars for their debut, all artists not only receive lessons everyday from a vocal coach and an American choreographer, but they also receive plastic surgery from a renowned plastic surgeon.
"The fact that the musical exposes the sweat and tears hidden under the flashy veil of K-pop stars is what appealed to me in the first place," said Sarah Jung (11), a K-pop fan. "In other words, this is a musical that speaks reality. Not some fake façade of wealthy and beautiful K-pop stars who were born to look and sound perfect."
According to the New York Times, KPOP is a show that successfully blends in parody and reality of the K-pop industry. In addition to the satiric storyline, KPOP is filled with eye-popping visuals throughout along with carefully choreographed dance moves that capture the audience's attention, much like a genuine large-scale K-pop concert.
"As a foreigner who has traveled to various countries, I came to believe that America could be lacking in the multicultural vibe when it comes to music compared to other parts of the world," said Megan Lee, an English teacher interested in K-pop. "In other words, while I can hear American pop music playing in shops all over South Korea, I can barely hear any other music but American pop playing in American stores. Yet, by continuing to spread K-pop through multicultural joint efforts such as Psy and Snoop Dog's collaboration or the musical KPOP, America could take one more step toward diversification of its entertainment industry."