Another wave of pandemic hits South Korea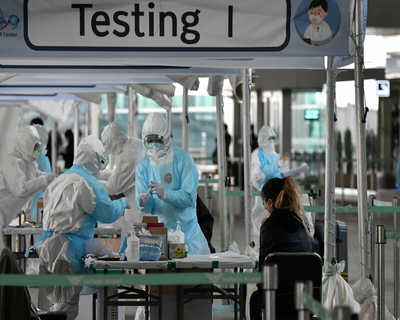 With four consecutive days of COVID-19 cases over 200 each day, the South Korean government decided to raise the social distancing level from 1 to 1.5 on Nov. 17. However, the numbers continue to increase and for the past couple of weeks, the numbers have been exceeding 300-500 cases each day. As a result, the social distancing level has been pushed up to 2.0 and currently 2.0+α. The number of deaths have also increased from nearly no deaths in the summer to at least one death each day recently. The surge in cases signal a third wave of pandemic in South Korea.

"I do think that a third wave has come," said Matthew Um (10), a student interested in the investigation of the coronavirus, "especially since there is still a lot of people that do not realize that not wearing masks and not social distancing is what is making this pandemic last so long. In order to prevent the cases from increasing any more, I think that densely populated areas should be closed until a vast majority of cases have been taken care of. But if this situation prolongs, we will be back to square one: online classes would become mandatory, people would need to stay home, and the country would probably go into lockdown."

The first wave of the Coronavirus in South Korea took place in early March, where several hundreds, even a thousand, new cases were reported each day. During the first wave, the infectious disease level was raised up to the highest level, level 4, which means being at extreme risk. Social distancing was actively implemented and all schools were closed. The second wave hit mid August with more than two hundred confirmed cases each day, leading to the social distancing level being raised to level 2.5. If this trend continues, it is possible that the third wave may be even greater than the second wave, especially with the cold weather.

The rise of the social distancing level to 2.0+α and the advance of a third wave brings up the possibility of remaining in full online classes until winter break, which may become a big problem for the students taking skills based exams. If all schools are forced to close, exams would have to take place online, which is not only problematic for teachers, but also difficult for students as well, since online tests tend to be unpredictable. While there is still a lot of talk about whether winter would make matters worse or better, the only thing that the students and teachers could do in this situation is try to social distance and stay safe until the wave recedes.

"I actually think that winter may decrease the COVID-19 cases," said Grace Lee (9), a student concerned about the third wave, "because people are more likely to wear gloves, stay inside, and wear a mask. I also believe that raising the social distancing level was a good choice on the government's part, as conventions with 100 people or more could simply be held online or canceled. Although Korea has less cases than other countries and has a fairly successful contact tracing system in place, it is necessary to remain vigilant."