Korean schools and SIS reopen to in-person learning
From January to February, Korea's COVID-19 cases have steadily reduced; as of Mar. 1, there is a 1.4 percent chance of testing positive. Following this trend, the government recently announced that students will be able to return to their schools physically. The Ministry of Education (MOE) expanded in-person classes for this year's new semester. Kindergartners, first graders, and second graders are expected to be in their schools physically, as well as high school seniors. However, the government has stressed the importance of social distancing as there are still potential threats that the disease may spread. The MOE plans to operate schools at two-thirds or one-third capacity according to the specific guidelines of each school. Meanwhile, SIS is planning to bring all grade levels back to school in response to permissions from the MOE. From Mar. 3, the school has opened for in-person learning while ensuring all students follow the given COVID-19 guidelines. 
"I am very glad that I will be able to go to school offline everyday," Hannah Yoo (12) said. "Although there were benefits to virtual learning like taking class at home and sleeping more, physically attending classes helps me enhance my focus. I feel like going to school helps me interact with my classmates and my teachers better, especially because we are all together. With proper precautions, offline school sounds like a better option for me and I cannot wait to start my offline weeks."  
As face-to-face interactions will inevitably increase, leading to more potential risks of infection, Jeon Eun-kyeong, the commissioner of the Korea Disease Control and Prevention Agency (KDCA) urged all students to follow mandatory government-given guidelines, such as keeping necessary distance and wearing masks at all times. Jeong added that quarantine and education officials will be monitoring public facilities and dormitories within schools for better safety. Furthermore, the MOE will also be conducting joint inspections around 6,472 elementary schools until Mar. 19. In response to the government's decision to have offline learning, many students and especially parents have shown satisfaction as students tend to be more actively engaged through in-person learning. 
"I have not been able to maintain consistent schedule patterns due to online learning," Minseo Kim, a student attending Seoul Art High School, said. "However, now as I am able to physically go to school again, I believe I can have more consistent sleeping patterns. Once I am in the school building, I can more effectively interact with teachers and students as well. However, what is concerning is whether students in schools will be able to consistently follow the necessary COVID-19 guidelines. If someone tests positive, it is likely that our school will resume online learning again."
SIS, at the same time, has decided to bring all grade-level students back to school. As more students have started to crowd the school buildings, the school is planning to implement stricter hygiene regulations. For instance, while freshmen and sophomores will eat lunch at their normal times, juniors and seniors will be eating later at 1:05 p.m. to maintain social distancing. 
"Teachers are to be present in the halls at specific times, such as activity periods and office hours," Gray Macklin, high school vice principal, said. "But most importantly, we trust students to follow the prescribed precautions. We believe that social responsibility and concern for public health are shared values between students, teachers, and administrators. What we have done is reiterate the importance of these precautions and invited students to be a part of the solution. We remind students if they forget, but we are all on the same page."
About the Contributor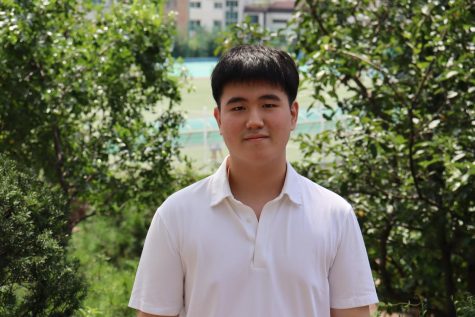 Jack Lee, Reporter
Jack is a senior reporter in Tiger Times. He loves to listen to lo-fi music, but his tastes for music frequently change. During his off-time, he likes...