SIS Drama prepares for their new school play 'Freaky Friday'
SIS Drama has begun preparation for the play "Freaky Friday," which will debut on November 1. The department has previously made many different plays, such as "Wizard of Oz", "Little Shop of Horrors", "Sound of Music", and "Nutcracker". At the status quo, the specifics of the play including the exact cast and script are undecided. Drama has recently finished its audition which was extended to May 14th. With "Freaky Friday," the department hopes to present an entertaining and relatable story for the audience which features the journey of a high schooler who constantly has disputes with her mother.
"Compared to last year's 'Nutcracker', a straight play, there are many new aspects and challenges for 'Freaky Friday', which is a musical. Many more roles are required, such as a live orchestra to accompany the OST music," Jane Kim (11), a veteran in acting in school plays, said. "Actors also face the challenge of having to find the appropriate way to express their emotions while acting, singing, and dancing at the same time. For example, actors cannot cry while acting out a sad scene because that would interfere with their singing. Finding a good balance will be something actors have to figure out."
"Freaky Friday" comes in many different versions as the play has been adapted in slightly different forms in 1976, 1995, 2003, and 2018. Among these variations, the school play will adhere to the storyline of the 2018 version, a musical theater depiction coordinated by Disney. The plot features an ordinary family consisting of mother Katherine Blake and the rebellious daughter Ellie as the two main characters. Although there are no glaring rifts in their relationship, the two tend to quarrel often due to their differences in fashion, hairstyle, and many other aspects. Tensions between the daughter and mother reach a climax when the two join Mike, whom Katherine will remarry, and they discuss their plans for Friday. Katherine has arranged her wedding with Mike on Friday, while Ellie, not thinking Mike in a good light, wants to audition for the rock band on that day instead. This results in an argument. The next day, surprisingly, the two find out their bodies have been swapped. Despite the chaos at first, Ellie and Katherine swapping bodies gives them an opportunity to walk in each other's shoes and understand where the other person is coming from. 
"I feel very excited for the chance to contribute to the school play. It would be a unique experience, and I like being on stage and grabbing the audience's attention, whether that is done by singing or acting," Joon Sung Kim (9), a student auditioning as an actor, said. "I really hope I can make it in the audition. Drama requires a lot of dedication, so I am willing to be hard-working if I get in."
However, there are still some obstacles ahead that Drama needs to overcome. For instance, the Drama Department has struggled due to the lack of participants in the previous years. Attempting to resolve this, Drama has continuously extended the due date for auditions. In addition, Drama changed the date of the play to ensure that other clubs' schedules would not be in conflict since, until last year, the Model United Nations (MUN) schedule and the play were on the same date, resulting in many students who prioritize MUN over the school play having to reluctantly give up contributing to the play. Yet, if the shortage of actors persists, Drama has the backup plan of having students play double roles. Moreover, due to COVID-19 policies, the number of audience members will likely be very limited compared to the past year. Drama is concerned that only a small number of people will be able to enjoy and watch the play in live-action. Hence, Drama and the school community dearly hope that the pandemic situation will settle so the restrictions could be lifted in the future.
"If students have to stay home due to the pandemic worsening, 'Freaky Friday' will be pre-recorded as an audio file and will be streamed online," Mr. Meiklejohn, director of school play production, said. "Another issue I'm concerned about is the lack of male actors. Choosing a play with many key female characters such as 'Freaky Friday' is an option, but I desire to have more key male roles and strongly encourage boys to try out for Drama."
About the Contributor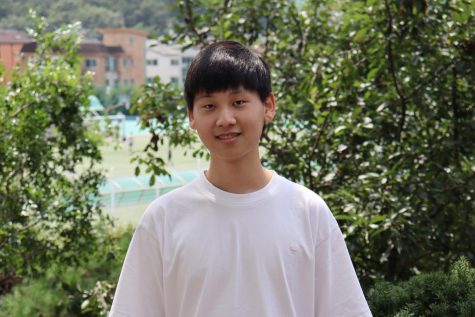 Joseph Chun, Design & Production Editor
Joseph is a junior copy editor for Tiger Times. He is a night person and often heavily relies on coffee. In his free time, he loves to watch LoL Champions...