Clubs promote Valentine's Day events
Minjae Chun, Design & Production Editor
February 14, 2022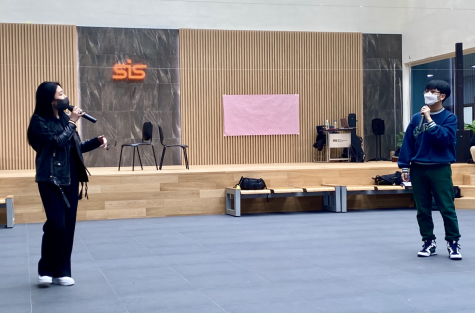 Valentine's Day has arrived, and the United Youth Service Club (UYSC) and the Music Production Club (MP3) arranged festive activities for the student body to enjoy. In celebration of Valentine's Day, UYSC members hosted a fundraising event in which students and teachers had the opportunity to deliver roses to their loved ones. 
"I think it was great how UYSC promoted Valentine's day events," William Kim (11), member of the UYSC club, said. "I felt proud as my classmates used this event as a chance to express their gratitude and love for their fellow peers. Everyone around me really enjoyed participating in the event."
Throughout the day, UYSC members delivered students with roses and a small appreciation card written by the sender. 
"I definitely felt the Valentine's Day spirit when I received a rose from one of my peers," Amelia Chung (11) said. "The small gestures of kindness really brought a smile to my face. I hope our school continues initiating Valentine's Day events in the coming years as well."
Meanwhile, the MP3 members organized a Valentine's Day-themed concert in the atrium where members sang and rapped love songs such as Bruno Mars' "Just The Way You Are." Teachers and students gathered around the stage and enthusiastically cheered for the performers. 
"The performance by the MP3 club was very entertaining," Amber Cheun (11), one of the audiences of the MP3 concert, said. "The songs were well-selected, garnering loving energy within the audience. I was personally surprised by how talented the MP3 members were." 
Members of both clubs made an ordinary Monday special, filling the school campus with roses and comforting songs. Clubs are anticipating to hold another Valentine's day activity for next year as well.