SIS hosts its annual spring sports banquet
On May 13, TSC hosted the spring sports banquet for athletes who competed from early February to late April. The soccer and badminton teams were seated in the auditorium during office hours as Jonathan Ames, Athletics and Activities Director, and the coaches announced lettermans, pins, and awards. Students could be awarded Coaches Choice, KAIAC All Conference, KAIAC All Tournament, Most Valuable Player, or Most Improved Player. 
The girls soccer team was first called on to the stage. Coaches Nico Lambert and Morgan Davis selected the two senior captains, Lulu Schooley and Riwon Ahn, for the Coaches Choice award. Sophomore player Grace Choi received the KAIAC All Tournament award, and third year varsity soccer player Talin Tyvand was awarded for both KAIAC All Conference and KAIAC All Tournament. Finally, senior goalkeeper and first year player Sophia Eu was recognized as the Most Valuable Player.  
"It was an overall successful season and definitely more challenging playing in a higher division," Morgan Davis, varsity girls soccer team coach, said. "This year's team was tough and a fun group of players to coach; everyone put forth a lot of effort, playing hard until the final whistle, and the team really came together. If Coach Lambert and I could, we would have given the Coach's Choice award to every player; it was a difficult decision for Coach Lambert and myself to make, and we came to the two seniors who were strong leaders and dedicated." 
The boys soccer team was led by James Tyvand and Adam Yannakakis this season, placing fourth at the KAIAC Blue Division Conference. First year player Philip Kim was chosen as the Most Improved Player and junior player Bryan Lee was awarded for KAIAC All Conference. Second year junior player Yoonseo Kim was recognized both for KAIAC All Conference and as the Most Valuable Player. Despite playing with a broken arm during the latter half of the season, junior player Daniel Kim was selected for the KAIAC All Tournament and Coach's Choice Award.
"I got injured midway throughout the season with a broken wrist, and I honestly thought I would not be able to play for the rest of the season," Daniel Kim (11), varsity soccer player, said. "But I continued to train hard and I was fortunate enough to heal in time for KAIAC. During KAIAC, I had to play with a cast on. I still gave everything I got, and at the end of the season, I ended up winning two awards. These awards are significant to me for they demonstrate the perseverance and determination I put in this season."
The badminton team placed second in both the KAIAC Conference and in the tournament. The coaches Dorothy Banas and Ricky Green nominated Elena Kim (10) and Andrew Choi (11) for Most Valuable Player, Bella Youm (9) and Steven Kim (10) for Coach's Choice, and Dana Chung (9) and Andrew Park (11) for Most Improved Player. Elena Kim, Irene Nam (10), Riona Kim (10), Andrew Choi, Steven Kim, and Jason Baek (10) were all awarded for KAIAC All Conference. 
"The MVP award I received was the most valuable recognition I got," Elena Kim (10), varsity badminton player, said. "It proved to myself that hard work truly pays off; the coaches also helped me and other members of the team by staying with us after practice to squeeze a few more minutes to play. I can say without doubt that everyone is proud of one another and this sparks further motivation for us to work harder and win first place next season." 
With many players receiving honors from both KAIAC and the coaches, hopes are high for the following season. This year's spring sports banquet has once again highlighted the accomplishments of each team and recognized the talented players across all sports. 
About the Contributor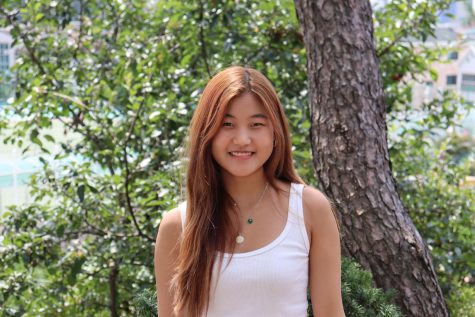 Erin Choi, Reporter
Erin J Choi is a senior reporter for Tiger Times. She loves to listen to music, dance, and socialize with her friends. She is highly engaged with school...