Mr. Lambert takes students rock climbing
On May 19, Niko Lambert, AP Biology teacher, took 14 high school students to the Yangjae rock climbing gym. This was an unexpected trip that was announced a week before the event, which was organized by Mr. Lambert himself. 
"I wanted to introduce students to rock climbing for a long time, but I did not have the time with all the AP tests coming up." Mr. Lambert said. "Now that they are over, I thought it would be good for students to relax and go on this trip."
The trip began after school, and students congregated on the bus at 3:05 p.m. After a short 30-minute drive to the gym, the group reorganized and split into two groups, as they had to take a mandatory safety and training lesson.
"The whole experience was nostalgic for me because I used to do a lot of rock climbing in the past," Jinmin Lee (9), an experienced rock climber, said. "I honestly wanted to immediately go rock climbing instead of taking the safety training, but I saw how it was important to learn the basics for proper safety and form."
The lesson included the most important aspects of rock climbing, including the proper way to break a fall, how to balance safely on the wall, and the basic rules of the different difficulty levels of rock climbing. There were a total of ten different levels, each marked by colors of white, yellow, orange, and green in order of increasing difficulty.
"I think I was a bit nervous when going into the gym because I had never rock climbed before and I had a fear of heights," Ryan Jung (10), an acrophobic individual, said. "When I actually saw the wall and the safety features, I realized that it was pretty safe. Also, the instructors taught us really well and made sure that we had mastered the safety training before letting us continue. I was able to reach the orange level and I felt very accomplished."
The students got to climb the easier levels under the guidance of the instructor, slowly increasing the difficulty to ensure they were not overdoing themselves. The most difficult level that both groups attempted was green, which very few people were able to complete. After the lesson concluded, everyone went off on their own, attempting to climb the various walls that were specialized for different styles of climbing.
"I am not a very physically capable person, so I was not able to climb anything above the lowest level," Allison Lee (10), self-proclaimed couch potato, said. "I still enjoyed the experience and it inspired me to consider exercising for the future, so I think it was an overall successful trip."
As the trip came to an end, there was disappointment among the students that wanted to climb for longer. However, there will be another opportunity in the near future as Mr. Lambert will be taking another group of students to the gym on June 1.
"I think rock climbing not only improves strength but also works on flexibility and balance," Mr. Lambert said. "It also requires mental fortitude for focus while climbing, so it does not only require physical strength. I am hoping to make this rock climbing event a regular event next year, such as once a month or twice a month, and maybe even create a club or afterschool activity."
About the Contributor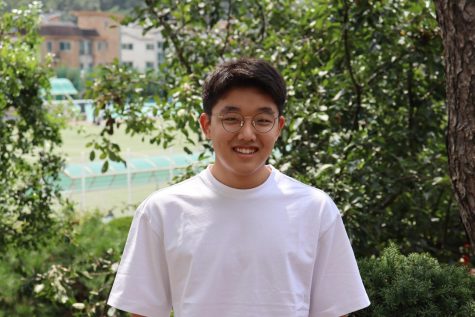 Paul Moon, Reporter
Paul is a junior reporter for Tiger Times. He likes running at night and enjoys the night city view. He watches way too much Youtube and loves watching...