SIS introduces new high school testing policies
SIS has created new guidelines for the 2022-'23 school year to combat the prevalence of academic dishonesty and students' failure to complete formative assignments. Most rules will apply to all high school classes, while some are exclusive to certain courses.
Previously, if a student missed class on a summative day, he or she would reschedule the test with the teacher. If many students were absent on that day, there would be several makeup days, putting a burden on the teachers to create multiple equitable versions of the same test. For this reason, Gray Macklin, high school principal, mandated that if students miss a summative day, they would need to take the test together on a day scheduled by a teacher. 
The new policies aim to curb the practice of students habitually missing summatives to buy themselves extra time.  Now, students can miss four summatives per semester, with all succeeding scores only credited up to 90 percent. Exceptions to this rule are school functions and prolonged illness—doctor's notes are no longer considered valid excuses. "Being present on assessment days is optimal, so we should work to make that people's most convenient and default choice," Mr. Macklin said. 
While these rules apply to the entire high school, some changes were made to individual classes. For example, in AP science courses, the option for students to drop one score at the end of each semester has now been eliminated, leaving reassessments as the only option for students to improve low grades. 
"We tend to think of grades as 'all points are the same,' and they aren't," Mr. Macklin said. "The points represent learning of specific standards, and when you drop those points, you're dropping those standards. You're dropping the learning." 
This renewal pushes students to thoroughly learn every component of the course they are taking rather than relying on score dropping to raise their grades. 
Still, students' reaction to this adjustment was mostly disappointment. 
"I got quite upset because I am taking a lot of science courses this year, and I thought that the sudden policy change became a disadvantage for many people," Ann Lee (11), AP Chemistry and AP Physics student, said. "Also, because we do not have many exams, many people get over 85 percent for most of them, which is why the retake seems less useful than the grade drop." 
Although the new policies enforce stricter expectations, there has been some additional leniency as well. For example, summative reassessments in AP Psychology are now based on both the scores of formative quizzes and completion of homework—taking notes on the textbook chapters. Previously, incomplete notes automatically meant that a student was not eligible for a reassessment up to 85 percent. 
With the renewed policy, however, as long as students score above 70 percent for all formative quizzes, they will be able to reassess. Failure to complete homework and poor formative scores would result in reassessment only up to 70 percent. 
"I think this policy just gives them a little bit more freedom," Chris Bracciano, AP Psychology teacher, said. "There may be some students who discover that they still do really well on formatives without taking notes, and if that allows that group to do well on the formatives and still learn, then I think providing that option for them is good."
The new policies are a collective step toward the goal of creating a candid, impartial school environment in which students are more encouraged to study diligently and be present at every summative to avoid receiving a penalty.
About the Contributor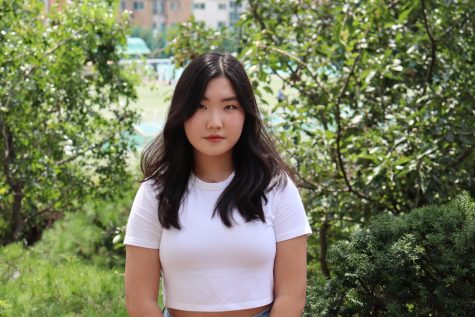 Sophie Choi, Reporter
Sophie is a junior reporter of Tiger Times. She loves watching K-dramas, hanging out with friends, and spending money at Sanrio stores. She also loves...