Be there or be square
After two and a half hours, five sets, and countless emotional points, the boys volleyball team secured another hard fought victory. The win was meaningful, for it culminated the long hiatus of games and the canceled 2021-'22 season. The tension amongst the players exploded as the entire team swarmed in the middle of the court. 
But the same could not be said about the audience. There were so few fans left that they were outnumbered by the opposing team's supporters. And such was the ending of SIS's 3-2 home victory over SFS: an unforgettable game watched by a forgettable number of people.  
The lack of school spirit is evident in other SIS school events as well, including school productions, music performances, and other sporting events. The audience seats that should be full of students are instead filled with teachers, parents, and peers who are part of the sport or performance itself. 
Many may blame COVID-19 for the lack of school spirit. Social distancing has certainly been a significant factor, preventing students from spectating many events. Even if students were allowed to attend, there was often a limited quota, creating the norm of not watching performances or games.
However, this issue is rooted in a culture that is distinct from the COVID-19 pandemic. Our lacking school spirit stems from the school's competitive environment that steers students away from a tight-knit community and supportive atmosphere. Before it becomes too late to reverse this toxic practice, it is time for students to appreciate their peers and express more school spirit. 
Hagwons, upcoming summatives, and general apathy are the main reasons students do not attend school events. Though students may be academically occupied, citing that they have a class after school or upcoming test during every school event makes their reasoning sound like excuses. Such self-interested pursuits are certainly not wrong, but the merits of showing school spirit—only at the cost of an hour or two—has its great significance.
Student athletes report that viewership and support positively impact their mindset and team atmosphere. Some even believe that their performance improves when a crowd is present because it provides an adequate amount of pressure.  
There are students who try to encourage their friends to attend events with them, but find that it is hard to convince others to tag along. Ironically, those who have been to multiple events admit to having a memorable and enjoyable experience. There is the consensus that the more people spectate, the more entertaining the event is. However, because people refrain from going in the first place, others similarly choose not to. Recognizing this tendency, we can try having people start conforming to attending school events instead. 
Instead of perceiving spectating school events as a "waste of time" or something "not worth doing," students should think of their peers who are first-handedly involved. Most students have their own activities, and they anticipate an audience. Ironically, these same students do not often attend other events. If students started going to each other's performances, it would ultimately be a win-win situation.  
Drama and music students in particular work on their performance during the whole semester, and to have people watch gives them a sense of validation. As much as our students dedicate their time and effort to their activities, we must equally learn how to celebrate their success and show that we truly care.
School spirit ultimately increases a sense of belonging and fosters a closer community. Studies have even found that school spirit is positively correlated with academics, happiness, and levels of social and civic engagement. 
Undeniably, it is unrealistic to expect an instant change. But try asking someone to accompany you to a game and be the first one to promote a music or drama performance. Though the first step is always hard, someone needs to take it. 
About the Contributor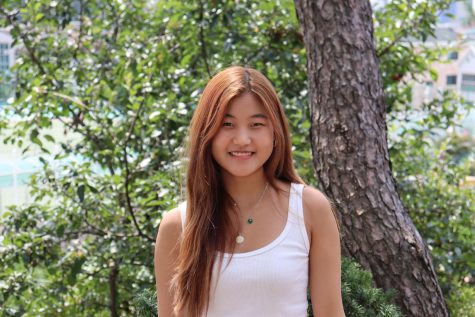 Erin Choi, Reporter
Erin J Choi is a senior reporter for Tiger Times. She loves to listen to music, dance, and socialize with her friends. She is highly engaged with school...