Renovated cafeteria receives mostly positive reviews
The renovated cafeteria opened on Sept. 1, and J&J Catering provided students and faculty with improved food in a larger space. Now the cafeteria provides students with three menus—Korean, noodles, and grilled—with a price of 6,700 won, a 1,900 won increase from last year.
Some students praise the quality of the new food.
"Last year, J&J mostly served convenience foods such as fries and pork cutlet," Steven Kim (11), food enthusiast, said. "But this year's food is served hot and fresh. The new lunch is worth every penny."
Jihoon Kim (12), food enjoyer, said that the meat quality has significantly improved: it is now less greasy and more succulent.
"The chicken breasts I had on Sept. 15's Korean menu were unexpectedly soft and juicy; they melted in my mouth," Jihoon said.
Steven specifically complimented the quesadilla, the grilled menu on Sept. 2, declaring it as his favorite menu item until now.
"The quesadilla had a lovely golden brown tortilla—thin yet chewy—and plenty of cheese and meat––tender and savory," Steven said. "The fresh salsa with diced tomato and onions gave a crunchy texture, adding on to the quesadilla's flavor."
Students also relished having more options to choose lunch from.
"Not only are all three menus delicious, but I also love the fact that we can get seconds on whatever menu we want," Steven said. "Last year, some days I could not choose between the Korean and international menu; now, I can try both."
Not all students were impressed with the new lunch, however.
"The food certainly did improve, but some menus still do not seem worth their price," Stella Chae (11), self-proclaimed food critic, said. "Some pasta menus were bland and had hard-textured noodles that did not absorb the sauce flavor properly."
Stella added that while she appreciates having three menu choices, the portions for each menu are too small, and the overall taste—the most important factor—is unsatisfactory.
"The food we had during the temporary lunch plan was far richer in flavor than the current cafeteria lunch," Stella said. "Maybe my expectations for lunch were set too high after the past month's experience."
Teachers also shared their opinions on the new lunch.
"The food is satisfactory compared to what we had before—especially the Korean menu," Nathan Warkentin, Korean food fan, said. "Namely, the japchae now has a more authentic flavor, coated with generous amounts of fragrant sesame oil and containing more fresh vegetables." 
Overall, students appreciated the school administration's efforts to bring change to school lunch.
"Lunch is an important aspect of school life—especially since many students often skip breakfast," Steven said. "With better food, students could hopefully enjoy their one-hour leisure time more."
About the Contributor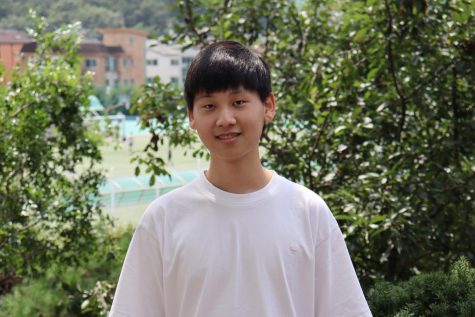 Joseph Chun, Design & Production Editor
Joseph is a junior copy editor for Tiger Times. He is a night person and often heavily relies on coffee. In his free time, he loves to watch LoL Champions...