How real is BeReal?
BeReal, a trending French app, encourages users to post unfiltered photos of their lives once a day, boosting authenticity on social media platforms while limiting the pressure of having to post the "perfect" photos.
At a random time throughout the day, BeReal sends a notification, reminding users that it is "time to BeReal". The app simultaneously takes photos from both the front and rear camera to fully capture the moment within a 2-minute time frame. Through this feature, the app lets its users retake their photos and fabricate them to a certain extent, giving rise to controversy regarding truly how real "BeReal" is. 
"I do not think BeReal fulfills its purpose completely because it does allow you to retake photos which takes away its supposed rawness," Grace Choi (10), BeReal user, said. "But then again, BeReal does not let you post pre-edited photos nor carries filters, so I guess considering that, BeReal is much more 'real' than the majority of other social media apps." 
To view other people's posts, BeReal users are required to post a picture of their own. Through this feature, the app encourages individuals to actively engage in the trend of expressing their genuine selves. 
Over the summer, numerous SIS students began using BeReal to share their lives with friends and family. Many have complimented the app for its purpose of realistically depicting the lives of users. 
"BeReal's message of expressing one's true and raw self is essential because of how casual the app is compared to Instagram, Snapchat, or other social media platforms," Christie Hwang (9), BeReal user, said. "Unlike other social media apps like Instagram, BeReal promotes showing your friends your raw and true self, disregarding the high standards that other social media platforms set."
As stated by Social Media Today, downloads of the app have risen by 315 percent since the beginning of the year. The app currently has a five-star rating, 314,484 reviews, and is placed no. 1 in the Social Networking category of the App Store. BeReal now ranks fourth in the list of most downloaded social media apps, next to Instagram, Snapchat, and Pinterest.
"I can tell that BeReal has been gaining lots of popularity," Yujin Joe (10), BeReal user, said. "All of my friends use BeReal, and I personally think that its unique features are really interesting. I especially like the feature where you get to react to other people's posts with your own picture—I think it is much more fun than merely pressing the heart button like the ones on Instagram."
About the Contributor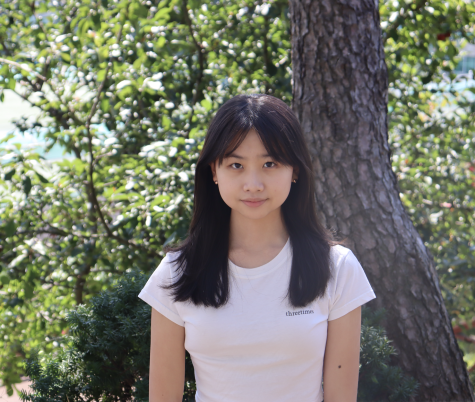 Chelsea Kim, Reporter
Chelsea is a sophomore reporter for Tiger Times. She possesses a great appreciation for literature and enjoys listening to music and binge-watching movie...