Queen Elizabeth's funeral day
On Sept. 19, Britain's longest reigning monarch Queen Elizabeth II's funeral took place at Westminster Abbey. At 6 a.m., the doors of Westminster Hall where the queen lay in state closed to the public after thousands of Britons paid their respects, in order to prepare to move the queen's coffin. 
A procession featuring members of the armed forces and the band accompanied the coffin hauled by a state gun carriage from Westminster Hall to the abbey, with King Charles III and his sons following behind. As the coffin was carried through the streets of London, many mourners lined the roads outside the capital to pay their respects one last time.
A congregation of 2,000 guests gathered in Westminster Abbey for the queen's funeral, including members of the royal family and global leaders such as President Biden, present and former UK prime ministers, and many more. 
The historic funeral commenced at 11 a.m. London time as speakers referenced the queen's reign, Christian faith, and life of service. Following, the state hearse arrived at St. George's Chapel and the queen was buried in a private service at Windsor Castle together with her husband Prince Philip, who passed away in April 2021. The service of committal was an intimate closing with only family members being present. 
Two minutes of silence took place across Britain towards the end of the ceremony at noon, concluding a day of events that marked the death and burial of Britain's longest-serving monarch.
The funeral was broadcasted live on TV, radio, and the Royal Family's Youtube Channel, allowing for global viewers to take part in mourning the Queen. 
 "I stayed up into the wee hours to livestream the Queen's funeral," Phoebe Borst, AP English Literature and Composition teacher, said. "The entire scene was very moving, especially with the choir songs echoing in the cathedral and the procession's impressive pomp around the funeral march. I wanted to witness a moment of current history being made, and in some small way, offer respect and honor to a woman who dedicated 70 years to a lifetime of service."
About the Contributor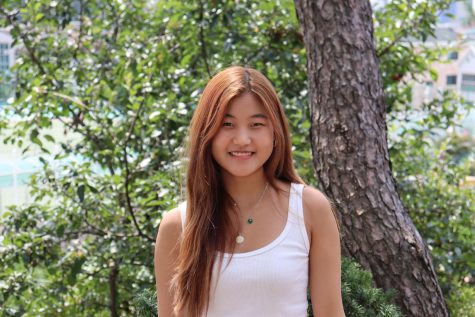 Erin Choi, Reporter
Erin J Choi is a senior reporter for Tiger Times. She loves to listen to music, dance, and socialize with her friends. She is highly engaged with school...