Meet Jinwook Shin, AP Physics 1 perfect scorer
On Sept. 17, Head of AP Program Trevor Parker personally congratulated Jinwook via mail for his perfect 80/80 on the AP Physics 1 exam—an accomplishment achieved by only two students in the world. Huge congratulations to Jinwook!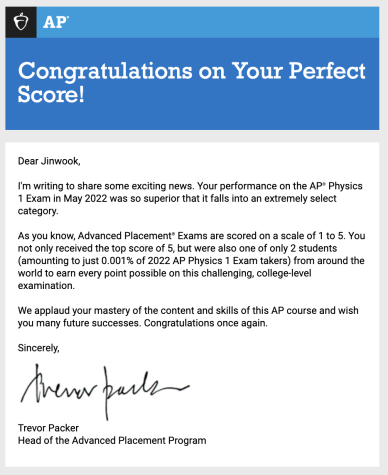 How did you feel when you first saw this news?

"I was stunned—I could not believe it. I initially did not feel much excitement because I was suffering from COVID-19. Once I returned to school and Mr. Macklin congratulated me, the realization of this feat truly sunk in, and I started to feel proud of myself."
What did you expect your grade to be before it was released?
"I had prepared exhaustively, so I was pretty confident about getting a five. But I never expected that I would receive perfect marks. There was one confusing FRQ that I changed my answer to in the last three minutes, and I consider myself lucky to get that correct."
How did you prepare for the exam?
"I constantly practiced: a month before the test, I looked through countless past exams to get the hang of MCQs. Simply solving a lot of MCQs and reviewing what I got wrong honed my MCQ-solving skills. Meanwhile, I found FRQ concepts harder to master—especially the infamous lab-procedure FRQs. I carefully read through the College Board scoring guide for each question, comprehending which statement would earn me a point. I also devised a strategy of writing as much information as I can in a concise manner for each FRQ."
How did you feel as you entered the AP testing room on the day of the exam?
"I felt ready. Not only did the one-month preparation help me feel confident, but remembering the fact that I already had finished AP Physics C—a harder, bigger obstacle—helped me ease my nerves."
How did you feel after the test?
"Firstly, I was just relieved that the exam was over. But I also felt sure of my performance: I remember jokingly saying 'I'm gonna get all the questions right.' to my friends. Other than the one FRQ, every question was smoothly solved. But later on June 22, I saw Trevor's tweet reading out 'one student out of around 120,000 worldwide earned a perfect 80/80 on the AP Physics 1 exam.' and thought 'no way that is me.'"
(NOTE: The number of students with perfect marks later turned out to be two, when the late-testing AP exam data was incorporated. The number of AP Physics 1 exam takers including the late test takers is 145,000.)
How did your friends and family react to this news?
"My friends who remembered me saying that I might get everything right were astonished after hearing about my 80/80: they later told me 'I thought you were exaggerating—I did not know you actually meant it.' Yet unfortunately, my mom who does not acknowledge the rarity of this accomplishment was not so amazed… or maybe it is just an Asian mom moment."
Final Remarks?
"I think I will never come close to an accomplishment with a ratio as crazy as 2 out of 145,000. It will certainly be a cherished memory for a long time."
About the Contributor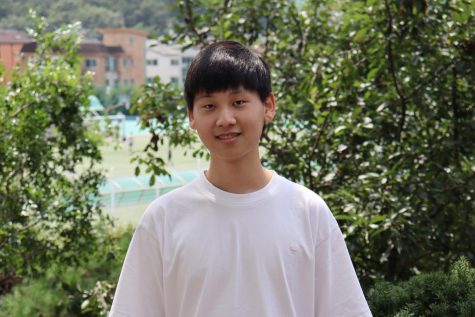 Joseph Chun, Design & Production Editor
Joseph is a junior copy editor for Tiger Times. He is a night person and often heavily relies on coffee. In his free time, he loves to watch LoL Champions...