Korean teams dominate in LoL Worlds Championship
In the League of Legends (LoL) Worlds Championship semi-finals on Oct. 30-31, T1 defeated JDG 3-1, and DRX defeated Gen.G 3-1. The finals between T1 and DRX on Nov. 5 will be the first finals between Korean teams since 2017.
Before the semi-finals began, LoL fans and experts had mixed predictions on how the match between T1—Korea's second seed—and JDG—China's first seed—would unravel. 
"T1 is a powerful team possessing skilled players; however, 369, JDG's top, is also a star player that led his team to victory in Mid-Season Invitational," Jason Baek (11), regular LoL viewer, said. "I expected it to be a close fight with a score of 3-2."
Yet once the matches started, T1 players dominated JDG. T1's mid laner Faker was especially good, picking his signature champions Ryze and Azir to outclass JDG with his ultimates.
"It was surprising to see Faker pick Ryze, a champion he did not often pick in previous Worlds matches," Jason said. "As a T1 fan, I was thrilled to see his Ryze carry the game—it reminded me of his peak performances in 2015-'17."
Fans were also surprised to see the underdogs DRX—Korea's fourth seed—claim victory against Gen.G—Korea's first seed. Though all DRX players contributed to their victory, mid laner Zeka's performance was especially impressive.
"Zeka has been playing insanely well this Worlds," Jeffrey You (11), ardent DRX fan, said. "But I had no idea he could carry games even when laning against Gen.G Chovy, one of the best mid laners in the world."
DRX fans are also happy to see Deft, DRX's AD carry, finally claim the spotlight he deserves after a long period of unsatisfactory results in Worlds. 
"Deft was always an outstanding AD carry, but he did not always have teammates that could leverage his strengths," Jeffrey said. "But with his current teammates, he may be ready to claim his first Worlds trophy."
Korean fans are excited by the fact that Korea has already secured the top region title regardless of who wins.
"It is nice to see Korea reclaim the crown after experiencing a painful loss against Chinese team EDG in 2021 Worlds," Kevin Kim (11), passionate LoL enjoyer, said. "The remaining two teams are both strong—whichever team returns in triumph, I expect the match to be intense and entertaining."
About the Contributor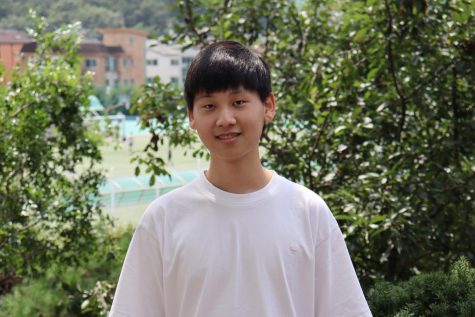 Joseph Chun, Copy Editor
Joseph is a junior copy editor for Tiger Times. He is a night person and often heavily relies on coffee. In his free time, he loves to watch LoL Champions...