COVID-19 cases surge in China, lead to Korean policy changes
On Jan. 9, China faced a resurgence of COVID-19 cases with over 13,000 patients testing positive for the first time following the loosening of COVID-19 lockdown policies in early December 2022. The resurgence has prompted the World Health Organization (WHO) to confer with Chinese officials regarding the release of more information about COVID-19 in China on Jan. 14.
Following the conference with WHO, Chinese authorities announced that nearly 60,000 deaths occurred since December 2022 due to COVID-19 related complications on Jan. 14. Previously, Chinese authorities only considered rates of pneumonia or respiratory failure as part of its COVID-19 death count, leading to an artificially low daily death count.
"I feel that China not disclosing enough information about COVID-19 is useless and selfish," Eunjong Lee (11), student in Asian Studies, said. "COVID-19 is a worldwide problem; people need to work together, and China hiding data for their own benefit only harms other countries."
China's selective count of deaths due to COVID-19 and unwillingness to share COVID-19 related data only instigate new questions about the true severity of COVID-19 in China. Considering Lunar New Year on Jan. 22 is approaching, when a lot of families are hoping to return to their hometowns, another surge in cases may entail catastrophic effects.
Following the rise in COVID-19 cases in China, the Korean government revised its immigration policy for Chinese travelers. The Ministry of Health and Welfare requires all travelers from China, Hong Kong, and Macau to submit a negative COVID-19 test report, fill out the Quarantine COVID19 Defense form before arrival in Korea, and a PCR test within a day of arriving in Korea.
Even with the rise in cases of COVID-19 in China, the Korean government discussed and decided to ease mask requirements indoors from required to recommended. Two out of four conditions needed to be met for consideration of removal of mask restrictions—a decrease in weekly COVID-19 cases for at least two weeks, a decrease in weekly cases of serious complications due to COVID-19 and a weekly fatality rate below 0.1%, over 50% availability for ICU's for four weeks straight, and over 50% of the elderly vaccinated with a booster shot. However, with the rise in cases from China and the Lunar New Year approaching, the regulation change will take effect after Lunar New Year on Jan. 30.
"Visiting my grandparents during Lunar New Year, my grandparents didn't seem to care much about COVID-19," Ian Park (11), looking forward to Lunar New Year, said. "In fact, they too were relieved that the mask mandates were going away, so the safety concerns about COVID-19 has certainly gone down a lot since it started."
The heightened restrictions for Chinese travelers are not limited to Korea; the EU recommended its member countries to introduce new measures for Chinese travelers, while other countries like US, Canada, India require negative COVID-19 test reports before or upon arrival only for travelers coming from mainland China, Hong Kong, and Macau.
"I think the school understands that masks are a bit of an impediment to learning, so we're eager to get rid of them," Michael Ganus, Head of Performing Arts, said. "But they do keep us safe, so they'll stay optional. People could still wear them, but it wouldn't be mandatory."
With countries such as the US and the majority of countries in Europe dropping mask mandates, some consider Korea's mandates to be strict when much of society is returning in-person. Yet as COVID-19 case surges occur from the likes of China, countries should consider the balance between safety and restrictions for the world to transition from a pandemic to an endemic.
About the Contributor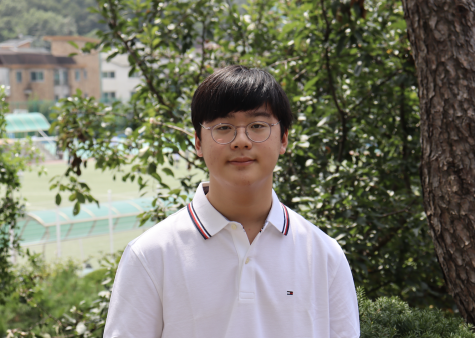 Andrew Shin, Reporter
Andrew is a junior reporter for Tiger Times. He enjoys cycling, watching anime, and programming in his off-time. Feel free to approach him with anime recommendations!