James Gunn reveals DC slate
On Jan. 31, 2023, the co-CEO of DC Studios, James Gunn, revealed the upcoming slate of movies and television shows set in their upcoming cinematic franchise, which would be rebranded to the DC Universe (DCU). This comes after several outlets reported that Warner Bros. Discovery, the parent company of DC Studios, was looking to reboot or revamp its existing film universe in order to recast key characters and move in a different creative direction.
Among the films announced were "Superman: Legacy", a reboot of the classic character with a more light-hearted tone, "The Brave and the Bold", an introduction to Batman and Robin separate from the recent "The Batman," "The Authority," a more obscure team from the comics, "Supergirl: Woman of Tomorrow," an adaption of the critically-acclaimed miniseries of the same name, and "Swamp Thing," a horror movie. The first film, "Superman: Legacy," is scheduled to release on July 11th, 2025 with Gunn himself writing the script.  
Additionally, numerous TV shows were announced that would tie into the franchise. These include "Creature Commandos," an animated series, "Waller," a live-action show following Amanda Waller from the previous series "Peacemaker," "Lanterns," a detective series following the character Green Lantern, "Paradise Lost," a spin-off of Wonder Woman, and "Booster Gold," a comedy show exploring "imposter syndrome as a superhero." 
During the announcement, Gunn heavily emphasized the DCU's comic influences. Art from various comics related to each project was displayed, and Gunn mentioned specific comic runs that the franchise would take inspiration from. In a tweet, Gunn stated, "the feel, the look, or the tone of them are touchstones for our team." The specific comics highlighted were All-Star Superman by Grant Morrison and Frank Quitely, Supergirl: Woman of Tomorrow by Tom King and Bilquis Evely, Batman by Grant Morrison, Andy Kubert, and Tony Daniel, and Absolute Swamp Thing by Alan Moore and Stephen R. Bissette. Many of these books would subsequently sell out across online retailers such as Amazon due to anticipation from fans.
About the Contributor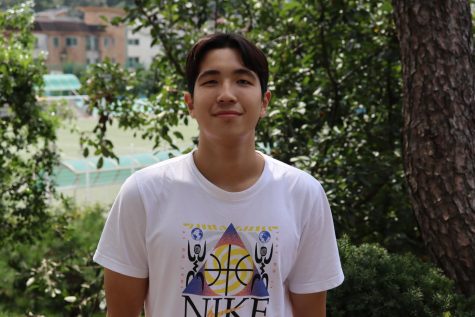 Brandon Choi, Executive Copy Editor
Brandon is a junior copy editor for Tiger Times. He likes playing basketball, watching TV shows, and listening to music. He follows US politics often and...