RAK holds Kindness Week at SIS
Starting on Monday, Feb. 13, Random Acts of Kindness (RAK) hosted Kindness Week leading up to the Random Acts of Kindness Day on Feb. 17. The club has celebrated the Random Acts of Kindness Day since 2018.
"The objective is to create activities that would bring the community together and create opportunities for everyone to be kind," Carolina Paglialunga, RAK adviser, said.
"We were hoping that people could appreciate the things that they take for granted in everyday life," Jennah Yoo (12), RAK president, said.
Random Acts of Kindness Day originated from the Random Acts of Kindness Foundation, a nonprofit organization which first celebrated the Random Acts of Kindness Day in 1995 in Denver, Colorado. As the event gained more attention, it spread to the rest of the world which celebrates it annually on Feb. 17th.
To celebrate Kindness Week, RAK put up a cupcake on the wall to provide a space for students to write notes of kindness and "sprinkle kindness around SIS." 
The Valentine's Day activities hosted by RAK were another main focus for Kindness Week this year, especially the Teddygrams which were very successful.
"I think the main focus was on the Teddygrams and putting the chocolate on the lockers, but RAK joined the counselors to prepare the cupcake in the hall from Monday to Friday," Ms. Paglialunga said.
Although classes on Random Acts of Kindness Day ended up being held online, RAK is focusing on a bigger event later this year that will showcase kindness at SIS.
"We're actually hoping to host a Kindness festival where we invite middle schoolers and high schoolers together and do small activities," Jennah said.
"RAK wants to prepare it later in April or May," Ms. Paglialunga said. "Hopefully I can be more active in having their future ideas come to action."
About the Contributor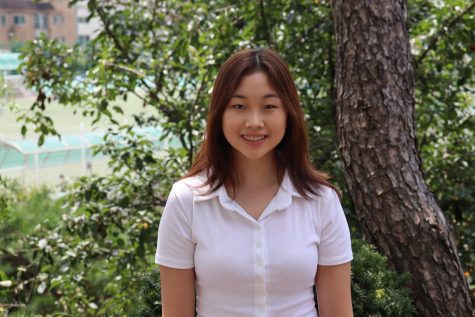 Hannah Yi, Reporter
Hannah is a sophomore reporter of Tiger Times. She loves drawing, writing narratives, and listening to new genres of music. In her free time, she enjoys...