South Korea strives for same-sex equality
On Feb. 21, a South Korean appeals court ruled that the national health insurance service should offer spousal coverage to same-sex couples—marking the country's first legal recognition of government benefits for sexual minorities.
The ruling came in response to a lawsuit filed by So Seong-uk. So sued the National Health Insurance Service in 2021 after the agency revoked his status as a dependent to his partner Kim Yong-min.
After the couple held a wedding in 2019 to publicly declare their relationship, the health insurance agency initially accepted Kim's request to list So as his dependent, promising to provide spousal benefits equal to those given to heterosexual unions. But later, the agency claimed that it made a "mistake" in its decision to provide the insurance—that So did not qualify as a dependent.
In the 2021 lawsuit, the lower court sided with the agency and ruled that same-sex unions could not be considered equal to heterosexual couples. But the recent court decision overturned this: it declared that both same-sex and heterosexual couples are "the same in essence" in that they form an "emotional and economic community" outside the legally defined family relationship. The court acknowledged the prevalent discrimination against sexual minorities in South Korea, and further claimed the laws "make it clear that sexual orientation must not be grounds for discrimination."
The National Health Insurance Service plans to appeal the ruling to South Korea's Supreme Court.
"I am glad to see that Korea is starting to address the widespread discrimination against LGBTQ people—it is a meaningful step towards creating a more inclusive society," Allison Lee (11), LGBTQ ally, said. "I hope that one day Korea will leave behind its outdated views towards the LGBTQ community and become more accepting, like the US."
Though this ruling granting spousal coverage to same-sex couples is good news to the Korean LGBTQ community, many obstacles still remain toward achieving equal rights among sexual minorities. Namely, a bill aimed at preventing discrimination against gay, lesbian, and transgender people has been stalled in the National Assembly for decades.
Other Asian countries, such as Thailand and Taiwan, have made progress in protecting queer rights. However, in South Korea, homophobia remains an apparent issue—according to a national survey, nearly half of South Koreans do not want gay friends, neighbors, or colleagues.
"It is crucial that public opinions toward sexual minorities change," Dr. Nave, Contemporary Asian Studies teacher, said. "The government and educators should stress that being different is okay and everybody should be treated equally. Hopefully, this Supreme Court ruling will open people's eyes to the apparent issue of discrimination against LGBTQ, and make them wonder why should somebody's rights be denied due to sexuality."
About the Contributor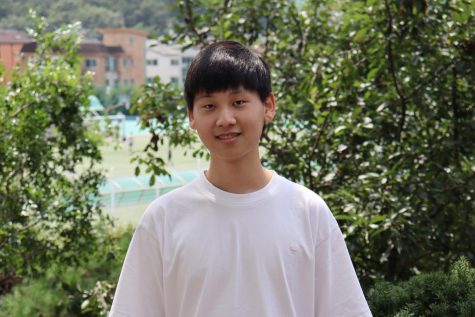 Joseph Chun, Copy Editor
Joseph is a junior copy editor for Tiger Times. He is a night person and often heavily relies on coffee. In his free time, he loves to watch LoL Champions...