Mu Alpha Theta hosts Pi Day
On March 14, to celebrate the mathematical constant 𝜋, which is approximately 3.14, Mu Alpha Theta held a pie eating contest in the atrium during office hours. There were seven contestants: Nathan Warkentin, Chris DelVecchio, Hana Jeon, Woojune Kim (12), Eddie Chu (11), Anika Kurebayashi (11), and Isaac Lee (10). Contestants had to eat two cream pies without using their hands.
"Mu Alpha Theta tried to change the Pi Day events this year," Allison Lee (11), Mu Alpha Theta executive, said. "Last year, it felt like an event within the club. This year, we tried making it an entertaining event for the whole school. We included students from both in the club and out of the club. We also included the assistant principal."
While other contestants struggled with positioning the pies into their mouths, Mr. Warkentin and Isaac immediately started engulfing the pies in large chunks. As they could not use their hands, many contestants had cream smeared on their faces. 
Mr. Warkentin was the first contestant to devour all of the pies. Mr. DelVecchio finished eating the pies soon afterwards, claiming the second place title. Issac Lee was the only other contestant who was able to finish his two pies.
"One of the things about a pie eating contest is you need to have no shame going into it," Nathan Warkentin, pie eating contest winner, said. "You know you are going to get messy no matter what. I think a lot of people are tentative at first, and they don't really commit to it, thinking that they will get out of it pretty clean. I just gave up on that. Also, I didn't eat any lunch that day, so I was very hungry. In the end, I was fully ready to eat."
Leave a Comment
About the Contributor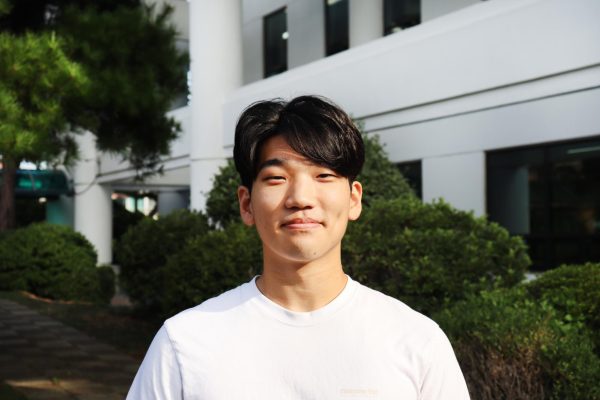 Eric Hyunseung Cho, Reporter
Eric is a junior reporter for Tiger Times. He has a voracious appetite for more than just food. His love for thinking about mathematics and space is matched...