MAΘ Competition Team participates in NEAMC
From March 17-19, members of the Mu Alpha Theta (MAΘ) Competition Team participated in the North East Asian Mathematics Competition (NEAMC) hosted by North London Collegiate School Jeju.
The competition consisted of nine rounds: the individual mathematician, confidence, duel, and codebreaker rounds were held online on March 11, while the pursuit, crypto, inspiration, lightning, and shuttle rounds were team rounds performed in person in Jeju. Specifically, teams consisting of students from different schools were arranged for the crypto and inspiration rounds—a valuable opportunity for students to meet and interact with new people.
While the individual and shuttle rounds were more conventional with students sitting down and solving problems, some rounds were unique. The pursuit and lightning rounds involved running, where each team had a runner to snatch problems from the staff, deliver them to teammates, and return answers to the staff.
"As a person who rarely exercises, I felt more fatigue from running than doing long hours of math," Allison Lee (11), runner for the pursuit round, said. "It was an exhausting yet interesting experience that I would never feel from contests like American Mathematics Competitions."
But NEAMC did not only have math-related activities—students also had a moment of cultural enrichment, visiting Jeju's Spirited Garden and experiencing grinding grains with a traditional millstone.
The highlight of the math competition, for many, was the inspiration round. Teams crafted an infographic mathematically modeling Earth's maximum population. The judges chose the top six infographics, and the six chosen teams debated to decide on one victorious team. 
After a fierce debate, including audience questions and crossfires, team 9Q, whose spokesperson was Sean Kim (10), was crowned the winner. They used a logistic model to predict Earth's population threshold, incorporating factors of birth and death rates.
"The most interesting part of the debate was that the audience could make an impact by asking inquiries to teams," Sean said. "For example, during the final matchup between team 9R and us, Eric Cho (10), as an audience member, questioned if team 9R's predicted maximum population of 340 quadrillion is chemically possible according to the conservation of mass. As such, many audience members brought in new perspectives to the debate, making it unpredictable and fun."
The NEAMC competition concluded with an award ceremony. Medals of several categories, including strategy, creativity, and knowledge, were given out. In the end, the three students with the highest overall scores received medals, two of which were awarded to SIS students: Kaden Lee (10) and Joseph Chun (11).
"I am amazed at the progress I have made as a mathematician over the past year to receive this award," Kaden said. "While I am happy with my results, I am equally glad to have had the opportunity to participate in such a lively and fun competition."
Nathan Warkentin, MAΘ adviser, reflected on the unique opportunities that NEAMC offers.
"It is not just about the math: NEAMC provides an excellent platform for students to network and build lasting relationships with their peers," Mr. Warkentin said. "With Singaporean students joining us this year, it was great to see many students having fun and participating in lighthearted activities in addition to solving math."
Mr. Warkentin also expressed his enthusiasm for participating in future NEAMC competitions.
"I would love to have our team attend future NEAMC competitions, as long as COVID-19 does not pose any issues," Mr. Warkentin said. "It was nice to see students be so engaged doing math and participating in team activities. I hope that more such opportunities will be open for us in the future."
About the Contributor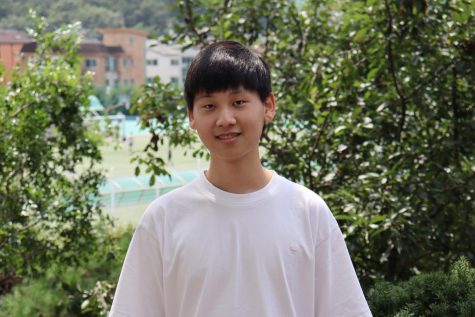 Joseph Chun, Design & Production Editor
Joseph is a junior copy editor for Tiger Times. He is a night person and often heavily relies on coffee. In his free time, he loves to watch LoL Champions...