DeSantis announces presidential bid on Twitter
On May 24, Republican Florida governor Ron DeSantis launched his 2024 presidential bid on the audio platform Twitter Spaces. While a series of technical difficulties delayed it by 25 minutes, the online event co-hosted by CEO Elon Musk and tech investor David Sacks received a total of 3.4 million listeners. However, this fell short of the 10 million expected by DeSantis and failed to live up to Sacks' label of it as "by far the biggest room ever held on social media." 
The announcement sets up a face-off between DeSantis and former president Donald Trump, who initiated his election campaign last November, in the 2024 Republican Party presidential primaries. This could divide the party between conservatives looking for a new figurehead and steadfast Trump supporters. 
During his announcement, DeSantis defended his decision to ban books from public libraries and restrict the scope of the AP African-American History course in Florida. The NAACP, a long-respected civil rights organization, issued a travel advisory for African-Americans going to the state, citing "aggressive attempts to erase Black history and to restrict diversity, equity and inclusion programs." 
"One way or another, I think [the College Board] had to make the course a lot less offensive to people like Ron DeSantis. The fact that it has taken this long to have an African-American class is already stunning, and the fact that DeSantis has partly ruined it is not surprising," Patrick Young, a registered voter, said. "He seems to have a White supremacist bent toward everything, and AP classes are no exception." 
This decision to publicly broadcast a political announcement also represents hardline right-wing involvement from Elon Musk, who officially acquired Twitter last October. By directly endorsing and platforming a presidential candidate, Musk has broken the social media site away from political neutrality, an ethos he previously advocated for. In April of 2022, Musk tweeted, "For Twitter to deserve public trust it must be politically neutral, which effectively means upsetting the far right and the far left equally."
Among Republican leaders willing to field other candidates, DeSantis seems to be the most popular choice. With a battle between two goliaths in the conservative world imminent, the Republican electoral strategy has primarily been focused on toppling President Biden. Though he has made subtle jabs at Trump's administration in the past, DeSantis largely refrained from directly criticizing his primary opponent during the announcement. However, many doubt the Republican Party's ability to move on from Trump. 
"He's not going to win. This whole thing with Republicans trying to get away from extremism and gaining voters that are more moderate doesn't work. [Republicans] don't care about that," Henry Hatridge (11), a follower of political news, said. "Usually, political parties cater more toward their base. Because the majority of Republicans already support Donald Trump, there's no reason for them to push Ron DeSantis, and he's already an unpopular candidate anyways."
About the Contributor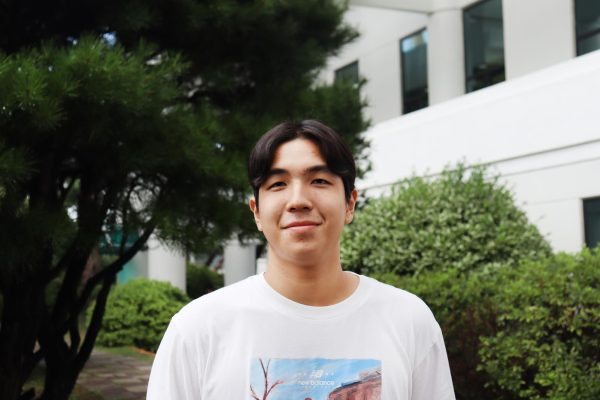 Brandon Choi, Executive Copy Editor
Brandon is the senior executive copy editor for Tiger Times. He enjoys playing basketball, watching good TV shows and movies, and listening to music. He...