North Korean teams excel at 17th Asian Games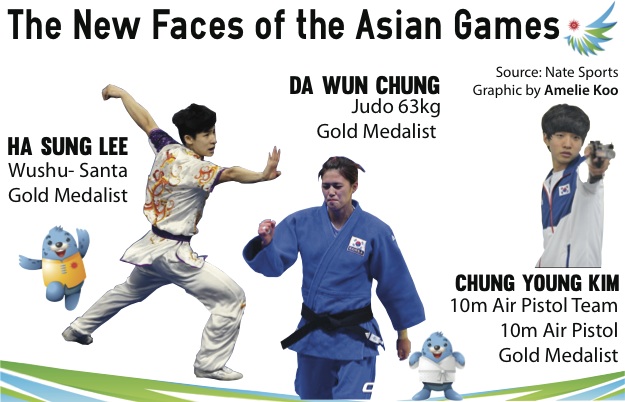 Athletes from 45 countries competed in the 17th Incheon Asian games, which were held in South Korea from Sept. 19 to Oct. 4. In particular, North Korean athletes' participation in the event attracted attention and created tension. According to the DailyNK, South Korean concern regarding the presence of North Korean athletes in the South dates back to 1986 when North Korea threatened to boycott the Seoul Asian Games for political reasons. Though South Koreans braced themselves for unexpected problems, the competition proceeded without conflict.
"While it seems like unification is really far away, [events] like these are a very hopeful sign," said Hye Yong Min, Chief of Communications. "When I was growing up, I could not imagine North Korea attending our Olympics and I think [their participation] is a huge change and it should give us a lot of hope for a better, peaceful resolution [between the two nations]."
Despite the buzz around the event, according to the Chousn Ilbo, the Asian Games did not receive much attention in Korea. Tickets for sports events starring famous athletes such as swimmer Park Tae-Hwan and rhythmic gymnast Son Yeon-jae were nearly sold out, but tickets for less recognized sports such as cycling were barely purchased. In addition, more obscure sports were not televised on major broadcasting networks such as SBS or MBC.
"I think that the Asian games [were] unpopular because our athletic facilities often failed to work properly," said Dongin Kim (11), Tiger Sports Council member. "For example, some volunteer workers focused on getting autographs from athletes instead of doing their appointed jobs and there were complaints regarding the players' treatment and transportation systems."
Although the Games did not attract a large audience, with only 10 percent of tickets sold in the first week, the Asian Games ran smoothly, and South Korean athletes accomplished major feats. Kim Ye-ji, rower, received gold in the women's sculls event and Kim Myeong-jin  claimed gold in wushu, a form of traditional Chinese martial arts. Moreover, Park Tae-Hwan, obtained silver in the 100-meter freestyle event and bronze in the 200-meter and 400-meter freestyle events.
"I was able to go see Park Tae-Hwan swim and it was a fun experiencing getting to see the underwater cameras and how they followed the swimmers around the pool," Erin O'Sullivan (11) said. "Although [Park Tae-Hwan] did not get first place, I think he tried his best, for he had injuries from previous competitions. As a varsity swimmer, I understand the pressure athletes are under so I am proud of all of the Korean athletes because they tried their best, whether or not they did well."