New students adjust to school environment and challenges
Adjusting to a change is always difficult. In response to the second wave of COVID-19, SIS has been taking several measures in order to prevent students from being exposed to any possible symptoms of the disease. Meanwhile, a group of new students arrived at SIS, attempting to adjust to the new challenges and environments of both the safety precautions and the school itself. To list a few, the school has imposed strict regulations on social distancing by making students wear masks and remain far apart from each other in the cafeteria. While social distancing is currently taking place through virtual classes, for the past few weeks, the new students have tried to search for new friends and fit into the SIS community.

"We decided to move to South Korea before the pandemic got worse," said Shane Paek (10), a new student at SIS this year. "Cases were decreasing in Seoul and increasing in the US, and we had to move here because of my dad's work anyway. School being farther away and having to take subways to get home after sports is tiring, but most importantly, not being able to meet with my friends or doing activities outdoors are some of the challenges I have been trying to adjust to. One way I found to overcome my challenge is to become more interactive with my friends online. The software I use most frequently is Discord, which I use for texting and playing games with friends from school."

As virtual classes have become necessary due to the outbreak of COVID, the returning students have slowly learned to embrace the new learning environment. However, virtual classes are still largely impacting the new students who have tried to fit into the norm of SIS.With virtual classes, the new members are facing hardship getting to know other peers, mainly due to the uncomfortable and perpetuating side effects of video-calling interfaces. When internet or screen quality is poor, students have no choice but to intensely concentrate on words being spoken in order to understand what others are saying. Furthermore, fatigue caused by crude noises transmitted from the internet distracts students from interacting productively and socially. Thus, these drawbacks have made it especially tough for new students who have tried to meet with their peers.

"With social distancing and online classes in place, I feel discouraged from approaching classmates," said Katherine Richardson (10), another new student at SIS. "I'm worried that COVID-19 may continue for a long time, making it harder to get to know people. Despite social distancing, I have already tried to meet a few people in my classes. Also, the biggest challenge for me has been the more limited group work. I enjoy working with my classmates in groups, but group work is less convenient online than it is in person. I'm adjusting to working alone more, and communicating more efficiently online."

COVID has indeed played a role in students' learning environments. But most of all, one of the biggest changes for new students, especially from different countries, has been adjusting to a school set in a different country. According to Carly Santos, SIS's High School Counselor, new students from abroad have been grappling to adapt to the different culture of South Korea. But apart from all, it has become more strenuous for counselors to more actively and efficiently reach help for new members online. Nevertheless, the high school counselors, in response, have worked to help the new students fit into the social circle of SIS as much as possible.

"Even though it still may be incredibly difficult to connect with other students, I think there are still ways to get connected with the people through school clubs," said Morgan Davis, SIS's new High School Counselor. "Also, reaching out to counselors is another great way. The counselors and I are looking forward to putting small groups together for school discussions and so on… so if new students are interested in the discussion, they can always join and participate even virtually."
About the Contributor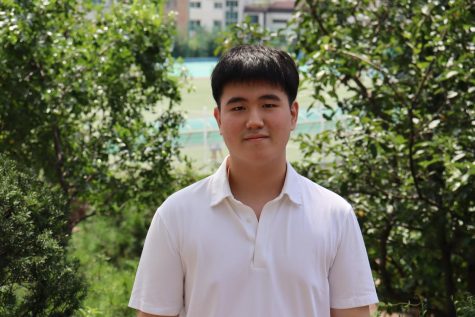 Jack Lee, Reporter
Jack is a senior reporter in Tiger Times. He loves to listen to lo-fi music, but his tastes for music frequently change. During his off-time, he likes...