Koreans find travel closer to home, camping due to COVID-19
The South Korean government has recently announced that it will lower the COVID-19 safety precautions to level one. In response to the change of policy, people in South Korea have begun to participate actively in outdoor activities. More people have begun to enjoy sports activities like basketball, soccer, and hiking, which now frequently take place in various sport facilities. But apart from other outdoor hobbies, camping has become very popular. The activity that involves pitching a tent and eating outside with friends and families has fueled people's desire to explore the wild and enjoy nature.

"I go camping sometimes with my parents," said Fabian Roh (10). "When we get to our campgrounds, we first build fire for the fireplace. At night, we sit around the fire and have conversations while having barbeque or roasted marshmallows."

When cases involving COVID-19 were at their peak, millions of Koreans were not able to enjoy outdoor activities. Instead, most of them were required to stay indoors, waiting for the pandemic to settle down. However, in response to more lenient social distancing policies following the drop of Korea's COVID level, more people have begun to travel to campgrounds. According to data collected by ThankQ Camping, a company which offers online reservation services for campers, over 17,000 places were booked in July this year compared to around 11,000 reservations from last year, showing a jump of 53 percent. Moreover, the income of Korea's camping sites increased by more than $33,000, further suggesting a dramatic growth in the number of campers.
"I do like camping," said Jim Hardcastle, ES science teacher. "Sleeping under and enjoying the stars is something many people never get to experience. I had planned to do a night or two this fall, bike packing preferably and staying along bike paths near rivers, or in car park camps, but we have stayed in hotels instead. We have bike-packed in many places in Korea in previous years. It is something I enjoy doing and I look forward to camping next summer."

However, the escalating number of campers has also caused controversy as too much outdoor activities like camping could limit social distancing, leading to another explosion of COVID cases. In response to this concern, the government is still taking careful measures to provide safer options for people wanting to go outside. For example, to prevent the spread of the disease, quarantine guidelines have been in place at campsites. All campground visitors are also required to check their body temperatures and provide personal identification information such as their names and phone numbers for tracing purposes.

"As far as activity is concerned in regards to the virus, I have felt comfortable being outside," said Morgan Davis, SIS's high school counselor. "My experience has been varied depending on the activity. When biking on the Han or Tan-chan, almost everyone has some form of face covering. When hiking in the mountains, many people do not wear masks, but, because it is happening at a slower pace, people can be more respectful of space. From what I have read, outdoor activities are minimal risk and are so beneficial for self-care during an incredibly stressful time in our world. I plan to continue to enjoy that time in nature!"
About the Contributor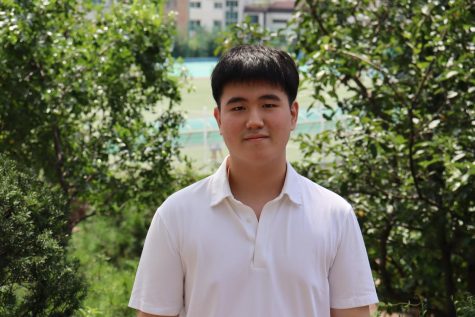 Jack Lee, Reporter
Jack is a senior reporter in Tiger Times. He loves to listen to lo-fi music, but his tastes for music frequently change. During his off-time, he likes...