Netflix removes 30-day free trial
On April 7, Netflix removed the 30-day free trial for non-members in South Korea. The company has gradually been removing the free trial feature in countries since 2019, and South Korea was one of the last countries where the service was provided. This follows the global trend of streaming services shortening or eliminating their free trial periods to reduce financial losses. Users would often watch a couple of their favorite shows during the trial before cancelling their subscription, a practice that harmed companies' returns. This issue was further highlighted once movies, such as "Soul" or "Wonder Woman 1984," started being released on streaming services. These expensive films would bring in millions of viewers, but if the majority of people used the free trial, streaming services would not be able to make a profit, which is why Netflix decided to remove the trial entirely.
"Although it is slightly disappointing, I understand why Netflix removed its free trial," Sam Hong (10), non-subscriber to Netflix, said. "Some people genuinely use the free trial to decide whether they want to purchase a membership or not, but most people seem to use it to binge watch shows they usually do not have access to. Taking that into consideration, I can see why Netflix would want to end the trial service."
A number of other notable companies have shortened free trials as well. Discovery+, Apple TV, and Peacock are all services that have a one-week trial period, and Disney+ has completely taken away the free trial in certain countries. Apart from economic reasons, this trend may also be fueled by the fact that pandemic has put extra emphasis on streaming services because people are homebound. During the first quarter of 2020, Netflix gained around 16 million new subscribers, nearly double the number of new subscribers it got in the previous quarter. In Korea, the number of subscribers has more than doubled during the pandemic. As streaming services become more popular, free trials will become less necessary to attract new users. 
"I think that Netflix is so widely used and accepted as a basic element of people's television that they probably do not need the free trial anymore," Whitney Meininger, long-time television viewer, said. "I personally also have subscriptions to Amazon Prime, Disney+, and Hulu. But for those platforms, it took a free trial to convince me that there was enough on the platform for me to subscribe."
Apart from removing the free trial, Netflix is also attempting to crack down on other actions that may be harming its finances. They are also looking to stop accounts from being shared with people other than family members, since unauthorized streaming could also keep subscriptions down. Furthermore, Netflix has raised its monthly fees in countries like the United States, and it may do the same in South Korea shortly. Though these changes decrease the accessibility of Netflix to the general public, the number of popular, original shows on the platform continue to attract new subscribers. The booming success of Netflix and other streaming services during the pandemic have allowed them to be more stringent about their policies. 
"I've considered subscribing to Hulu and Disney+ because they offer different forms of entertainment," Jihoon Kim (10), Netflix subscriber, said. "Hulu has NBCN, which covers sports, and Disney+ has shows like WandaVision that seem interesting. During the pandemic, I became more interested in streaming services because I had more time at home, and now, they are an essential part of my life." 
About the Contributor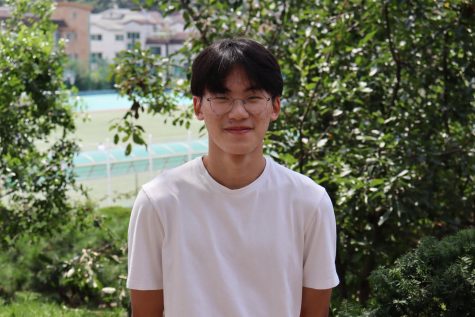 Woojune Kim, Co-Editor-in-Chief
Woojune is a senior Co-Editor-in-Chief of Tiger Times. He loves to read solutions to difficult math problems (not solve them, though), eat Annie's Bunny...