HSSC hosts Assassin event
On Oct. 18,  HSSC reintroduced their Assassin event last hosted in 2018 which tasks participants to take selfies with their assigned target with their faces showing to eliminate the target from the game. This event was a breath of fresh air, as so many creative HSSC events were held back or scrapped due to COVID-19.
"We did Assassin three years ago, and we thought that it should be brought back due to its popularity," Eric Lee (11), HSSC member, said. "We added club-based rewards because we thought people would be more motivated to join, and a lot of people did sign up."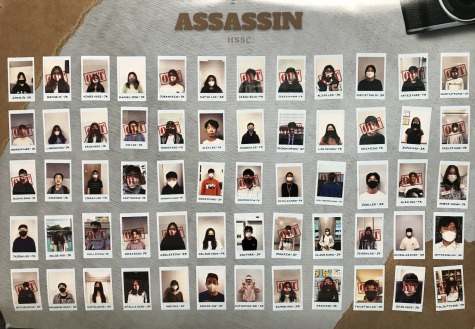 As student assassins received their first targets on Oct 31, beginning on Monday, they began stealthily moving around the school, seeking the opportunity to eliminate their opponents. Many were eliminated, but it will be a while until the last person standing is crowned the victor.
"One of the aspects that made Assassin so interesting was that people were trying to sneak up on each other, and it was almost like a battle for survival," Eddie Chu (10), eliminated assassin, said. "Though I was eliminated in the second round, participating in Assassin was an entertaining and memorable experience, and I hope HSSC holds it again in the future."