SIS holds first live concert since COVID-19 outbreak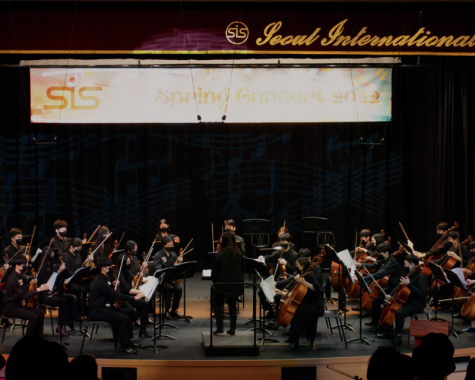 With the start of COVID-19 in 2020, all concerts held by the music department have either been postponed or held virtually through pre-recordings and live streaming. On April 21, HS Strings, High School Orchestra (HSO), and HSO Strings finally held their first, live spring concert in two years.
Violinist John Kim (10) and cellist Lindsey Lim (10) set the mood for the concert with their violin-cello duet for the piece "Handel-Halvorsen Passacaglia." Soon after, John, as the host, introduced HS Strings's four pieces: "Incantations," "Allegro Barbaro," "Wind of Hope," (composed by Lindsey) and the "La La Land" OST. The concert displayed the hard work of the ensemble offline, following their Platinum Award in the KAIAC Large Group Orchestra Festival. 
"Ever since coming back from winter break, we started practicing two out of the four pieces that we will play for the spring concert," Lindsey said. "We practiced the additional two pieces, one composed by me and the other from 'La La Land,' starting February. Since this concert is the school's first live concert ever since the outbreak, I felt that it should be spectacular—hence why I decided to compose a piece for this concert."
In transition from HS Strings to HSO performances, two violinists took the stage with their individual solo pieces: Nicholas Baik (12) played the piece "Lalo Symphonie Espagnole," followed by Skylar Peck (11) with compositions "Gluck Melodie" and "Paganini Caprice 21"—widely recognized as one of the most difficult violin pieces. 
"I chose my piece after I heard another student play it at a violin summer program," Nicholas said. "Although it is a technically demanding piece, I enjoyed performing it and hope my performance can also influence someone else to try playing this piece."
Soon after the violin soloists, HSO performed their new music pieces in the concert—their first performance since their Platinum win in the KAIAC Large Group Orchestra Festival. The concert ended on a high note with piece "Xenom," a sudden transition from the rather calming pieces "Blue Tango" and "Karelia Overture." 
"I am very happy that we had a successful concert since we all worked really hard to make this happen," Julia Kim, Strings and Orchestra Director, said. "This was the first live audience concert in 2.5 years due to COVID-19, so it was exciting to see students, parents, and faculty enjoy live music in the auditorium. I hope this concert was a good starting point for 'going back to normal.'"
Not only did teachers experience the thrill of the live concert, but many students had the opportunity to watch the concert in person with SIS administration lifting social distance protocols for the concert. 
"This is the first SIS concert that I have been to due to the COVID-19 pandemic," Matthew Um (11), concertgoer, said. "I really enjoyed the synchronization of all the pieces, but especially for the solos, I definitely could sense the amount of effort they put into it. For someone who does not pay much attention to classical music, I was really amazed by how flawless the overall performance was and how the music reverberated through the auditorium."