Show Me the Money triggers excitement amongst public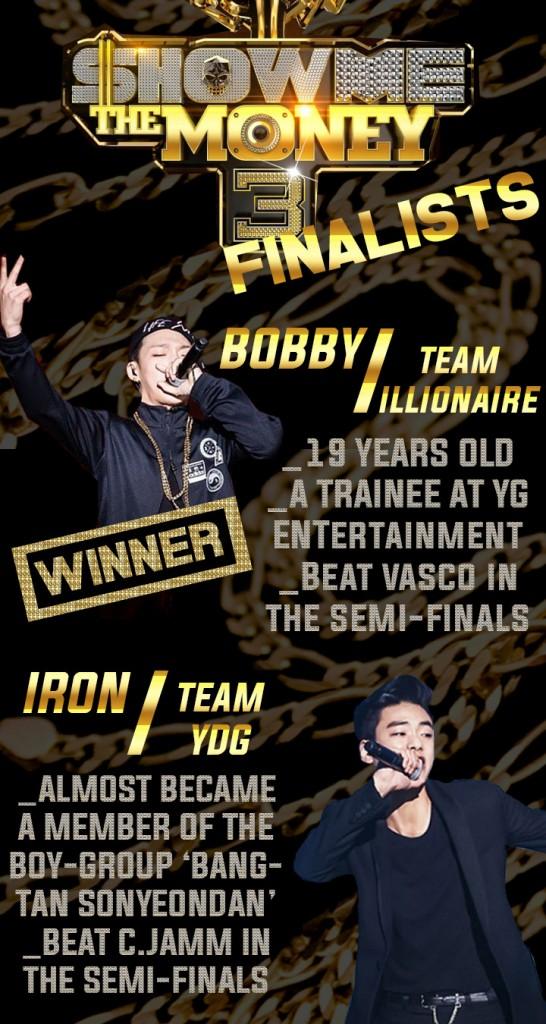 First aired on July 3 by Korean music channel Mnet, the third season of hip-hop survival program Show Me the Money (SMTM) has gained immense popularity amongst students. With 3000 rappers coming to audition, SMTM discovered talented artist and successfully managed to popularize hip-hop and rap music.
"I think SMTM 3 was the first time in which hip-hop in Korea was broadcasted in a way that engaged people with its [suspenseful] cliff-hangers," said Michelle Jang (12), fan of SMTM 3. "Although the previous seasons were better-organized, I preferred this season, for I could see the talented underground rappers improve with each episode and grow professionally under the help of fair mentors."
After two rounds of individual auditions and a round of a battle audition, the 16 final contestants who successfully made it to the team-selection process on July 24 were each assigned to one of the four teams: Brand New, YDG, Illionaire and YG. Over the course of 10 episodes, each team collaborated with its respective producers to deliver performances and compete for votes from a selected audience representing the public opinion.
Teams were eliminated one by one, and the losses of contestants such as Vasco, a 13-year-veteran rapper, and C-Jamm, a powerful underground semi-finalist, stirred much despondency amongst fans. Eventually only two contestants, Bobby from team Illionaire and Iron from team YDG, remained and competed in the finals on Sept. 4.
"I thought it would be a very close match between Bobby and Iron," said Young Wook Park (11), fan of SMTM 3. "While Iron has his own interesting way of grabbing the audience's attention, I didn't think that he'd get as far as he did. However, since I had always cheered for Bobby since the beginning, I was really happy when I saw the results [on TV]."
Bobby was declared the victor with his performance of "Raise your guard and Bounce," with 7,750,000 won earned with audience votes compared to the 2,200,000 won earned by Iron. As a result, the final amount that he amassed from the semi-finals and finals exceeded that of Iron, and presented Bobby with 100,000,000 won as well as a chance to release an album and hold a private concert.
"SMTM is a harsh survival program where rappers have to compete fiercely and 'diss' each other to reach the top," Young Wook said. "But I believe it also helped many fledging rappers to [take flight] and provided opportunities for ordinary people interested in hip-hop to reveal their potential and hidden skills as rappers. Personally, I hope to join SMTM 4 next year and become the next Bobby!"