Junior pursues passion in music and DJing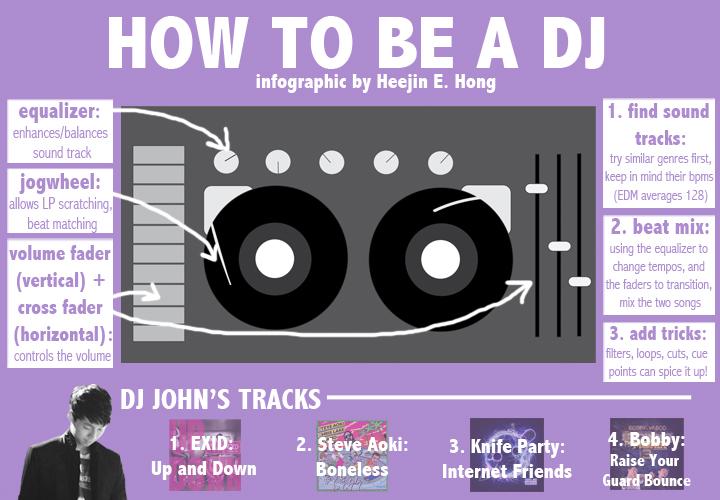 Using his experience with mashing music and creating covers with controllers, John Kim (11) served as the DJ at the beginning of this year's Snowball, also known as Hollywood Night. Although he was later followed up by a professional DJ, John had the opportunity to showcase his skills and create mash-ups of some of his favorite songs. John's career as a DJ began around six months ago, when he started playing around with different Musical Instrument Digital Interface (MIDI) controllers and decided that he wanted continue pursuing mixing music as a hobby.
"I felt like I did not even have to try to boost the atmosphere because the music provided by John was already so upbeat," said Alice Rhim (11), junior class secretary. "John's DJing really differentiated Snowball from Prom—at Prom, you inevitably feel self-conscious doing virtually nothing but take photos, but I saw everyone around me dancing at Snowball. I was so excited that I threw off my shoes and ran on stage with my friends; I don't think I have to be an expert in DJing to know that John did an amazing job."
In his free time, John has been uploading mash-up, remix and Launchpad covers to YouTube. For instance, for his K-pop mash-up cover, he mixed popular K-pop songs such as Psy's "Gentleman," 2NE1's "I Love You" and Big Bang's "Fantastic Baby." His most viewed video, which is a Launchpad cover of "Equinox (First of the Year)" by Skrillex, currently has over 730 views.
"I mostly worked with MIDI controllers for all of my covers but used the DJ controller for Snowball," John said. "I love creating mash-ups with songs I like because it feels like I'm creating entirely new music. Although I was initially very worried about setting the mood as a starting DJ, everything went well, thanks to the HSSC members and other enthusiastic students who started dancing onstage."
Having pursued various music-related activities since childhood, John decided to take a new approach by making music not only with classical instruments, but also with technology. Playing the piano since he was three, and the cello since elementary school, John has pursued showcasing his talent in both instruments by uploading Youtube covers and participating in extracurricular programs such as the High School Orchestra.
"I am honestly unsure how to explain it, but I love playing, mixing and listening to music— people who also love music will know," John said. "I have practiced the piano since a young age, but oftentimes felt stressed, as I was forced to practice difficult songs that required strenuous repetition. On the other hand, I consciously make time for DJing because it is a true hobby that provides me with an outlet from the heavy workload from school."
Link for John's channel: http://www.youtube.com/user/TheHkjn/videos
Most viewed video: http://www.youtube.com/watch?v=mthg8OiXVqY