"Sully" clears for lift off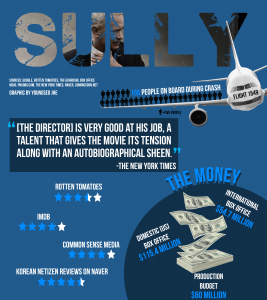 A movie based on true events surrounding the US Airways Flight 1549, "Sully," was released in South Korea on Sept. 28. The movie broke the record for the biggest global IMAX opening for a 2D film, grossing over $150 million against a production budget of $60 million.
On Jan. 15, 2009, US Airways Flight 1549 made an emergency landing on the Hudson River after colliding with a flock of Canadian geese just moments after take off. Pilot Captains Chesley Sullenberger and Jeffrey Skiles safely landed the plane, which was on its way to Charlotte Douglas International Airport from the LaGuardia Airport, and became heroes of the event soon dubbed the "Miracle on the Hudson." The movie derives its title from the name of one of those champions.
"I loved the movie," said Sarah Park (10), film enthusiast. "I did not know the movie was based on a true story or that the Miracle on the Hudson actually happened. After watching it, I was intrigued by Tom Hanks's acting skills as well as the plot of the movie itself. It is definitely a movie worth watching again."
Overall, critics were pleased to see a portrayal of the Miracle on the Hudson with great acting, visual graphics, and sound effects, giving the audience a direct feeling of being on board, according to the Huffington Post. As the outcome was already known, the events of the movie did not shake the audience as much as the PTSD-related nightmares of Captain Sullenburger. The beginning of the movie jerks the audience immediately into a scene of failing plane engine sounds and panicking captains as the plane crashes into one of the skyscrapers in New York. However, it is soon revealed that this scene is one of many nightmares of the Captain.
"Most of the reviews that I read about 'Sully' were positive and emphasized strong emotions throughout the entire movie," Diane Lee (11) said. "The plot seems very intriguing, and as someone who personally prefers to watch sad, emotional films, I am very excited to get the chance to watch it. I hope to be able to watch 'Sully' very soon and wish that it will exceed my expectations."
According to The Guardian, "Sully" has received a wide range of positive reviews, and has been increasing its audience throughout the world. Viewer counts have still yet to decrease in the US though it has been two weeks since its premier. The movie is in theaters until Oct. 27.