RAK hosts Garden of Gratitude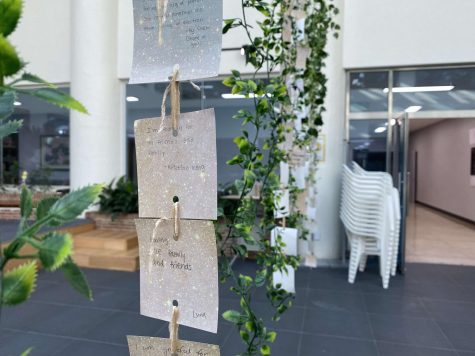 On Nov. 15, Random Acts of Kindness (RAK) finalized the school's annual Garden of Gratitude, currently displayed in the atrium until Nov. 19. As Thanksgiving is just around the corner, elementary, middle, and high school students cooperated to express their gratitude toward the most important things in their life through small messages they wrote in their A1 classes.
Beginning Nov. 12, the RAK executive team stayed after school to put up this garden, stringing together the thankful notes with draping vines and leaves. In contrast to previous years, the club put a lot of emphasis on the "garden" aspect of the decoration event, implementing many more natural elements in the design of the atrium. RAK expresses their excitement to continue this annual event this semester, especially because of their inability to do so last year following online learning. With thoughtful messages dangling in the atrium, Garden of Gratitude sets the mood for the Thanksgiving break to come.