Shelling attacks in Ukraine cause serious hazards
As conflicts between Ukraine and Russia persist, continuous shelling attacks since Nov. 19 on Ukraine's Zaporizhzhia nuclear power plant has caused extreme devastation for the country. This is the largest nuclear power plant in Europe and is now occupied by Russian troops. 
Rafael Grossi, Director General of the International Atomic Energy Agency (IAEA), sent an urgent message to the two countries, warning them of the irreversible damage they might cause. "Whoever is behind this, it must stop immediately," he told the BBC."You're playing with fire!"
Russian forces blamed Ukraine for the attack, but Russia itself was found to be targeting the Zaporizhzhia plant, regardless of the Russian soldiers occupying the area. Although there has been no significant damage to the plant, other energy infrastructure were damaged, such as the Rovno and Khmelnitskiy plants. With these power and energy infrastructures suffering damage from Russia's shells, Ukrainian citizens are being urged to leave Kherson, as the city is now deprived of heat and energy supply. 
The World Health Organization (WHO) warned that this winter would be "life threatening" for Ukrainian citizens, as Russian troops have been targeting their energy grid specifically, cutting off electricity for millions of people. 
On Nov. 25, another shelling attack on a hospital in Kherson resulted in the death of at least four civilians and ten injuries, with patients in the hospital forced to evacuate the country.
"I was devastated after hearing the news," Allison Lee (11), AP World History student, said. "I know that it is against the Geneva Convention for countries to attack hospitals, so I think Russia's actions deserve rightful punishment." 
Most expressed their reluctance to leave their hometown, but with the life-threatening dangers that they face daily, they have no choice.
"It is sad that we are leaving our home," Yevhen Yankov, Kherson resident interviewed by the CBC, said. "Now we are free, but we have to leave because there is shelling, and there are dead among the population."
Ukrainian President Volodymyr Zelensky has announced that Russia's targeting of Kherson was a form of revenge against Ukraine after Ukraine reclaimed the city on Nov. 11. The shelling began almost immediately after Russian troops were forced out of the Kherson region, and so he believes that the attacks were a form of revenge against the city.
"Russia's been a threat to Ukraine for a long time," Tyler Castaño (10), MUN member said. "The Soviets starved almost 4 million people there just to get their economy off the ground in the 1930s. This is just another chapter in the story; NATO backed Russia into a corner and now Ukraine's paying the price."
The war seems to be growing increasingly dangerous for the citizens of Ukraine, continuously forcing them to leave their homes in order to escape lethal attacks. Without any clear prospect on when the conflict is going to cease, it is up to the Ukrainian government to devise a way to protect its citizens through these difficult times.
About the Contributor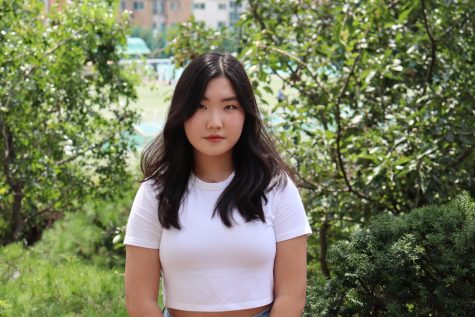 Sophie Choi, Reporter
Sophie is a junior reporter of Tiger Times. She loves watching K-dramas, hanging out with friends, and spending money at Sanrio stores. She also loves...