HOSIS captures lives of SIS students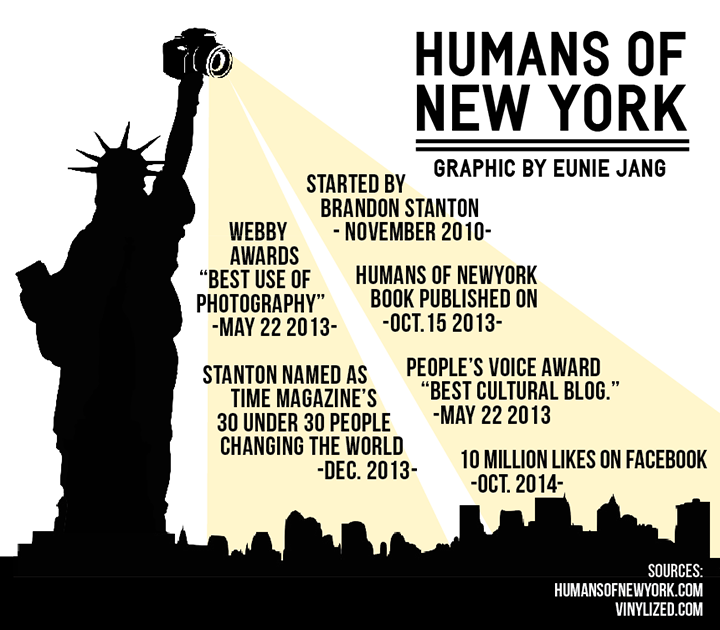 Looking to capture the stories of ordinary New Yorkers, Brandon Stanton started a blog called Humans of New York (HONY). Though Stanton never imagined that HONY would become such a success, his project has grown rapidly since the beginning, with the Facebook page having accumulated over eight million likes.
"The pictures on HONY's Facebook page really caught my attention," said David Moon (11), HONY fan. "They were not only entertaining to read, but also very eye-opening. I saw that ordinary individuals were actually not ordinary at all because everyone is unique in their own way."
Having started in November 2010, HONY has become more than just a collection of photos with accompanying captions. According to the Daily Dot, Stanton's photos of Hurricane Sandy victims in New York encouraged people to donate to an Indiegogo fundraiser, an international crowdfunding site.
Aside from encouraging donations and detailing peoples' lives, HONY also inspired others to start their own blogs. Students at the University of Illinois at Urbana-Champaign created a similar blog titled "Introducing Humans of Champaign."
Touched by HONY's impact, SIS sophomores Brian Kim, Andrew Rhee and Ashley Sohn founded the Humans of SIS (HOSIS) Facebook page in collaboration with Tiger Times Online and Aperture. According to Alex Lopez-Barton, social studies teacher, HOSIS is like Snapchat, capturing happenings at school in a humorous and digestible way.
"We really started it just for fun," Brian said. "We were looking through the photos and stories on HONY and we thought that it would be a good chance for the SIS community to bond over similar stories. It turned out bigger than we hoped as we worked together [with Tiger Times Online and Aperture]. They help us get more photos, which improves consistency."
With the HOSIS Facebook page gaining more than 325 likes, HOSIS members plan to expand their project by getting more students involved and possibly proposing HOSIS as an official club next year.
"We found out that as HOSIS gets bigger, people expect more," Brian said. "My friends tell me how empty the page feels and I understand because it's not everyday that I have time to swing my camera around and take pictures. For now, we just plan on continuing what we do. Next year, though we may push the program onto a larger scale in order increase coverage."