New Teacher Feature Q&A: Ms. Borst
Ms. Borst is one of the 15 new high school teachers this year. She currently teaches AP English Literature and Composition and English 9. In this New Teacher Feature Q&A, Ms. Borst shares some of her amazing life experiences, from teaching in the Middle East to flying on a military cargo flight. Welcome to SIS, Ms. Borst!
Where are you from? 
"I hail from the Midwest "Mitten State", otherwise known as Michigan."
What was your last school?
"Recently, my previous teaching assignment was in the Middle East, at The American School of Kuwait."
What are some of your hobbies and interests?
"My three, adorable little nieces have a special spot in my heart. The favorite part of my week is FaceTiming with them. As well, I love hiking, sitting on the beach under an umbrella with a page-turner, and in general, exploring new areas. The things that engage my creativity include antiquing, visiting art museums and places of worship, new restaurants or even cooking a new recipe at home. Korea has so many quirky cafes I can't wait to try. I enjoy writing about my adventures and would one day like to publish a book about my global excursions"
What was your first impression of SIS?
"I am so grateful that I have arrived in a place where education is a priority. My classroom has the best views of both Lotte Tower and our wonderful campus. The SIS campus is stunning and leaves no doubt that there is a real care for and investment in education at every turn."  
What aspects of the school attracted you to start teaching here?
"The commitment to 'Excellence in Education' is something that really appeals to me; this seems like a really special and unique community."
What are you excited about for the school year?
"I am excited to teach the bookends: both seniors and freshmen. Club life here at SIS is exciting,  and I'm looking forward to advising the GIN students and traveling with them. Lastly, I am eager to understand more about Korean culture in a more intimate way, one that I would not have been able to if I had remained in my comfort zone.."
What are some interesting facts about you that many people don't know?
"During the height of COVID-19, I was grounded in Central Asia for four months, and the only way to return back to the States was by way of a repatriation military cargo flight; I may or may not have made a covert pit stop in Kabul, Afghanistan. My first job out of high school was working as a 'security guard' in the Olympic Village during the 1996 Olympics in Atlanta, which was wild and a complete blast!" 
What motivated you to teach English?
"I majored in English during college, and always enjoyed reading and seeking deeper meaning in literature and in life. I really appreciate how literature is a human thread: we see ourselves woven into stories over time. I believe reflecting on literature is a great way to learn about oneself and the greater world."
About the Contributor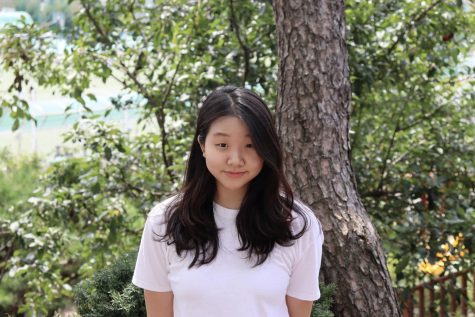 Minjae Chun, Design & Production Editor
Minjae Chun is a senior design and production editor of Tiger Times. She is passionate about art, literature, and journalism. She enjoys having movie nights...