NATO Secretary General asks South Korea to provide arms for Ukraine
NATO Secretary General Jens Stoltenberg requested for South Korea to grant direct exports of lethal weapons to Ukraine on Jan. 30. Although Korea has sent direct exports of nonlethal supplies to Ukraine, it has never sent weapons.
Korea's arms industry has been rising in demand, with President Yoon Suk Yeol's ambitions for the country to become one of the top four weapon sellers globally. 
"The offer is odd because Korea is not a member of NATO," Steven Nave, World History teacher, said. "I understand why Korea is not willing to go through with making an exception to the policy, since Korea is not directly involved in the situation, but I think everyone should help Ukraine."
However, several policies in South Korea prevent the country from sending artillery exports into areas engaged in conflict. For example, Korea's Foreign Trade Act states that its exports should not affect "international peace, safety maintenance, and national security," and the United Nations Arms Trade Treaty regulates the conditions under which weapons can be used.
"When the full-fledged invasion happened last year, many countries changed their policy because they realized that the only way to stand up for democracy, to help Ukraine prevail, and to create the conditions for a lasting peace was to deliver military support," Stoltenberg said.
Nonetheless, Korea is still involved with supplying weapons to Ukraine through indirect means. In December 2022, an anonymous US defense official revealed US plans to buy 100,000 rounds of ammunition from South Korean manufacturers to send directly to Ukraine. In 2021, Poland signed an arms deal with Korea for hundreds of weapons to replace ones that were sent to Ukraine, marking the first time that a NATO member other than Turkey has turned to defense contractors outside NATO for major weapons systems.
"It seems like Korea is already involved enough to change its policies," Emma Kim (11), Government & Politics student, said.
A day after Stoltenberg's inquiry to Korea, US Defense Secretary Lloyd Austin visited Seoul to expand the US's alliances in Indo-Pacific countries in response to territorial claims from China and threats of nuclear warfare from North Korea, according to an anonymous US senior defense official. 
Austin met with Korea's Defense Minister Lee Jong-sup, who stated that Korea knew about the "need for the international effort" in the Ukraine invasion and that the Korean government was paying close attention to the situation.
"Although it may seem clear-cut to support or not support Ukraine with what it needs for war, there is in fact a large gray area that Korea could operate within that would allow it to support Ukraine while still maintaining its existing policy.  The US had a similar policy leading up to World War II," James Kowalski, MUN adviser, said. "While I would love to see Korea support Ukraine even more, it's a decision that Korea has to make for itself."
About the Contributor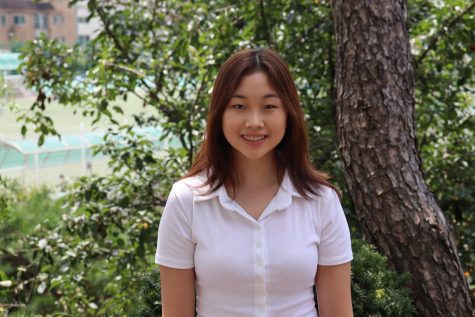 Hannah Yi, Reporter
Hannah is a sophomore reporter of Tiger Times. She loves drawing, writing narratives, and listening to new genres of music. In her free time, she enjoys...