SIS hosts annual end-of-year sports banquet
On May 16, the Tigers Sports Council (TSC) and the Athletics Department hosted the end-of-year-sports banquet. During the banquet, Athletics and Activities Director Jonathan Ames handed out awards to students and coaches, and varsity team captains delivered short speeches acknowledging the achievements of each sports team.
The end-of-year sports banquet began with Mr. Ames summarizing this year's season results. Although the fall season was canceled, other sports all had fair chances to take part in a number of games and the final KAIAC tournament. Many achieved impressive results, such as varsity girls and boys basketball, cheerleading, and badminton, each claiming second place at KAIAC.
Before introducing each sport, Mr. Ames first appreciated coaches who are departing SIS this year. This includes Rickey Green and Dorothy Banas who have co-coached varsity badminton, Morgan Davis who advised varsity soccer, Peter Alden and Ashlee Davis who coached cross country, and Jimmy Fischer who coached JV basketball and volleyball. Morgan Miller, the coach of varsity girl basketball, received the Coach of the Year award.
Afterward, Mr. Ames handed the mic to varsity team captains, beginning with that of varsity tennis. Junior and senior athletes gave an opening speech, recognizing the coaches, captains, and fellow members who contributed to a memorable season. 
"I felt honored to give a speech to my sports teams," Talin Tyvand (11), varsity cross country, basketball, and soccer player, said. "All my coaches and teammates pushed me to my limits, making me both a stronger athlete and person. I believe this motivated me greatly and helped me earn some memorable awards. Being able to give a speech definitely was an opportunity for me to express my gratitude and love for my team." 
Each year, a new group of students are selected as wall of fame inductees. These students are traditionally those who have participated in KAIAC All Conference or tournament for at least 2 years. This year, Mr. Ames also selected students who won the Athlete of the Award to be on the wall of fame. A total of eight were chosen: Nathan Kim (12), varsity swimmer; John Lee (12), varsity basketball, volleyball, and soccer player; Asuka Kurebayashi (12), varsity basketball player; Matthew Kim (12), varsity tennis player; Emily Sung (12), varsity swimmer; Philip Yoo (12), varsity tennis player; Talin Tyvand (11), varsity cross country, basketball, and soccer player; and Sophia Eu (12), varsity volleyball, basketball, and soccer player.
Students who maintain the highest GPA while playing at least two sports are qualified to be candidates of the KAIAC Scholar Athlete of the Year award. This year's recipients were Jordan Kim (11) and Jasmine Jeong (11), two varsity volleyball and basketball players.
Athletes of the year are those who are top performers in at least two sports, and have been awarded either MVP or Coaches Choice. Seniors John Lee and Sophia Eu were chosen as the two athletes of the year. John Lee has been a stellar athlete in varsity volleyball and varsity basketball since sophomore and junior year respectively. Sophia Eu has been an outstanding leader and consistent player in varsity basketball and volleyball for the past few years, and contributed significantly to the outstanding achievements of varsity soccer this year.
TSC had prepared superlatives for various categories in which the varsity members voted for themselves. This included categories such as 'last to leave practice', 'first to leave practice', 'clutch gene', 'most hops', 'most positive', and many more. The sports banquet came to an end with snacks and barbeque students could enjoy. 
"I think we started off slightly disappointing this year with fall season getting canceled," Mr. Ames, athletics and activities director, said. "But I think that as the country and our school became more comfortable playing with the parameters of COVID-19, we could really maximize other seasons to give the best opportunities to our student athletes. As this year's end-of-year sports banquet had great attendance, I am looking forward for another successful and maybe even a formal banquet next year."
About the Contributor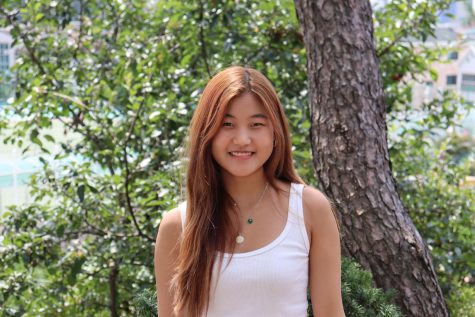 Erin Choi, Reporter
Erin J Choi is a senior reporter for Tiger Times. She loves to listen to music, dance, and socialize with her friends. She is highly engaged with school...